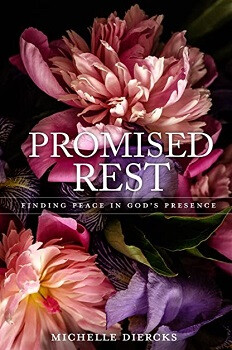 Every Monday, from 09/12/2022 to 10/31/2022, 7:00 PM - 8:00 PM
Monday Night Women's Bible Study
Mondays, 7:00-8:00 pm
September 12-October 31
Room 151, Family Life Center

Join us in person for a new study of Promised Rest by Michelle Diercks!
We will also have a Zoom group available at the same time on Monday evenings.

Each week of this eight-week study will feature a new name or characteristic of God along with its pronunciation and a biblical fact about it. Learn from author Michelle Dierck's personal anecdotes and biblical examples of how you can, and should, cling to God's names during times of anxiety and hardship.
Books are available through christianbook.com, cph.org, or Amazon. Amazon also has the book available in the Kindle store.

Questions? Contact Jamee Thieme through RCB or the church office (919-851-7248, ).