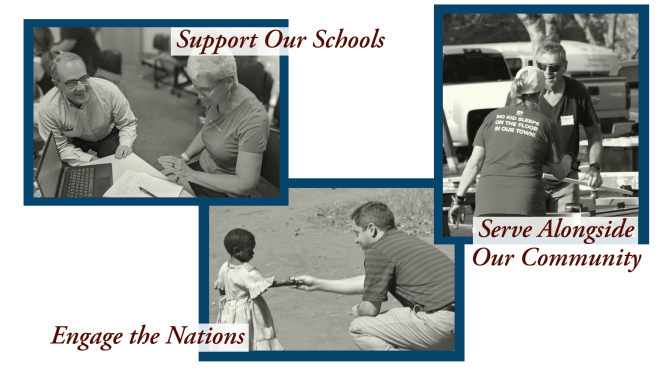 Roadmap for Ongoing Future RLC Mission Outreach Efforts
2022 was the year we at RLC began the process of rebuilding (after the COVID-19 pandemic) the structures of our church that enable us all to grow as disciples of Christ. Providing (a) excellence in worship (for those present in-person or taking part remotely), (b) varied Christian education opportunities, and (c) added structure for the catechesis of our youth. These have been and will continue to be the hallmarks of this eventful year from here on. But this focus on spiritual growth will always be an important focus of what we do at RLC.
Here is where we will be putting our time, finances, church personnel, and attention in the coming years (2023 and beyond) so as to be faithful to the mission of Christ ("make disciples of all nations, baptizing them in the name of the Father, and of the Son, and of the Holy Spirit and teaching them to obey all that I have commanded you" [Matthew 28:19]):
Greater alignment and collaboration between Resurrection Lutheran School/Resurrection Lutheran Preschool and RLC in bringing the love of God in Christ Jesus to the families of our community. Our schools are the primary asset that makes the ministry of RLC unique as a LCMS congregation in the Research Triangle.


Multiplication of service projects, servant events, and the establishing of serving communities allow those serving alongside us at RLC to encounter the God who loves them in Christ Jesus. At a church that professes as its mission statement "By grace, through faith, for service," a measure of this activity is, of course, already happening! But we could do more not only to invite friends, family members, neighbors, and co-workers to serve with us in our community… we can also invite them to consider WHY we are serving in the first place. In being led by God to bond with, learn from, engage with, and serve alongside others, God will, at the right time, also provide an opportunity for us to share (B.L.E.S.S.) our faith!


Increased recognition of the gifts God has given us to engage people worldwide with the love of God in Christ. RLC has been blessed by God not only to support the work of our congregation's missionaries with our offerings and prayers but to send short-term mission teams overseas to parts of the world where our partner churches/ministries are undergoing rapid growth. Such support is a blessing both for the country that receives the missionary and the one who sends the missionary. Moreover, our connection with our brothers and sisters in the Ethiopian Evangelical Mekane Yesus Lutheran Church and the Oromo Evangelical Lutheran Church of North Carolina gives us a unique opportunity to engage with other Christians from around the world in ways that bless our own outreach efforts and theirs. Finally… we are placed to welcome the nations to our doorstep! Wake County is second only to Mecklenburg County in the state of North Carolina, with the most foreign-born residents. God is bringing the nations to us! How can we not share the message of Jesus and his love for those who might not have ever heard?