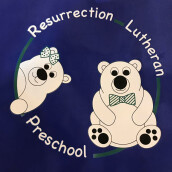 Resurrection Lutheran Preschool provides Christian education to nurture our young children. Classes offered for children ages 2-5 years old, including a Transitional-Kindergarten program.
2018-19 Tuition:
Monthly rates are $185-$360.
Plus $180 registration fee, $165 for each additional child.
Class Hours:
9:00 am-1:00 pm Transitional-Kindergarten
9:00 am-12:30 pm 4 year old, 4 day extended hours
9:15 am-12:15 pm 2 year old, 3 year old, 3-4 year old, 4 year old
Schedule:
Classes begin in the Fall around Labor Day and end in May before Memorial Day.
RLP follows most of Wake County Public Schools' traditional school calendar including holidays and teacher work days.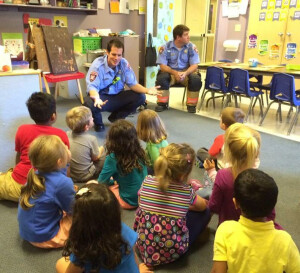 Our Mission
Children in our Preschool program will be provided with opportunities and experiences that will enrich, expand, and develop their ever-increasing accumulation of knowledge in a loving Christian atmosphere.
Our Objectives
To build a foundation of understanding that Jesus Christ is our Lord and Savior -- through Chapel and a living-learning environment.
To offer opportunities and activities to help each child develop a healthy self-concept, which includes accepting his/her abilities and God-given talents; thus, fulfilling each child's individual needs (spiritual, emotional, psychological, intellectual, and physical).
To foster the development of positive social skills through participation in small and large group activities.
To broaden each child's aptitude for future learning.
To provide a loving environment, enabling each child to trust his/her teachers and become more secure away from home.
Our Curriculum
RLP's 'learning through play' philosophy integrates Jesus' teachings woven throughout the daily schedule. A developmentally appropriate and integrated curriculum is provided. Child-centered, hands-on experiences are offered in an enjoyable learning environment, along with a mix of academic opportunities. Activities are planned to offer a blend of active and passive segments. Gross and fine motor, cognitive, language, emotional, spiritual, and social components are included within the context of the unit being explored.
Specials, Enrichment Opportunities

Chapel and Music
Weekly for all students.
Science
Weekly for 4-year-old and Transitional-Kindergarten students.
Water Day, Dad's Day, Mom's Day
These are a few of the special events offered.
Pre-K Letterland
Used in classrooms.
Language Enrichment, Spanish, Kidokinetics
Classes are available after preschool hours for our 4-year-old and transitional-kindergarten students. 8-week sessions are offered several times during the preschool year.
Staff Qualifications and Student Ratio
We have 2 qualified co-teachers per class. The 2 year old classes have up to 12 students each. All other classes have up to 14-16 students each.
Connect with us today!
Diane Hooper, Director
Visit our Facebook page, Resurrection Lutheran Preschool.