Weekly Fellowship
Stay Connected Through Online Zoom Meetings!
Mondays, 7:00 pm
We started a new study, The Gospel of Mark with Francis Chan from November 2-January 11. We are able to access the videos through RightNow Media. If you have not signed up yet, go to rightnowmedia.org/Account/Invite/RLCCary to register for your free account.
The Gospel of Mark chronicles Jesus's journey from Galilee to Jerusalem. Along the way, the Messiah gathers a ragged band of disciples. As crowds grow and dwindle on the road to Jerusalem, only a few stick by the Suffering Savior on the road of discipleship.
Contact Tom Gebbia at or join the Men's Ministry group through RCB to receive the Zoom invite.

Parking Lot Circles
We are still meeting for our parking lot gatherings every other week. This meeting is for fellowship in the RLC parking lot. We social distance with "bring your own" camp chair, mask, snack and beverage.
During normal circumstances, the Men's Ministry Weekly Fellowship meets Mondays at 7:00 pm in Room 240, Family Life Center, September through May. (Potlucks begin at 6:30 pm.) The weekly series opens with fellowship, a brief faith-based video relevant to men's issues, followed by small table discussion, and more fellowship. Men are invited to join any or all weeks as their schedule permits. Friends and neighbors welcome.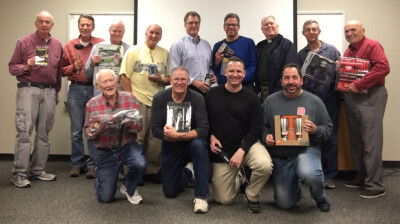 Potluck and Tool Gift Exchange - Monday, December 9, 2020


Monthly Breakfast
Usually, a Men's Breakfast is held the second Saturday of the month, September through May. Join us at 7:30 am for breakfast, fellowship, song, and message in the Fellowship Hall. Come be fed and get your weekend started off well! All men, teenager and up, are invited.


Men's Ministry Monthly Breakfast
Annual Retreat
Save the Date for Next Year!
8th Annual Men's Retreat and Service Day
March 19-21, 2021 at Camp Agape

7th Annual Men's Retreat and Service Day
March 20-22, 2020
Unfortunately due to COVID-19, our annual retreat was not held as planned. We usually enjoy a weekend of fellowship, service, and faith building! We normally kick off with our famous Friday night cookout/potluck/fellowship around 6:00 pm. We spend the bulk of Saturday working on various service projects at Camp Agape, weather permitting, ranging in fun and skill. And wrap up on Sunday mid-day.
This year's topic was "Spiritual Conversation and Defense." Pastor Jon Richter was to lead our program this year through four sessions over three days.
We have sleep capacity up to 24 at the lodge. The expected cost is $75 for two nights, including food. Prior participants indicate the weekend was well spent.
Ideally, we want you to be there for the entire weekend, but are flexible. If your schedule is impossible, you can come for the Friday fellowship, you can come just for the service projects, or you can come for Saturday only. You can even drive back and forth each night vs. staying in the lodge.
Contact Tom Gebbia at , through RCB, or the church office ( , 919-851-7248) with any questions.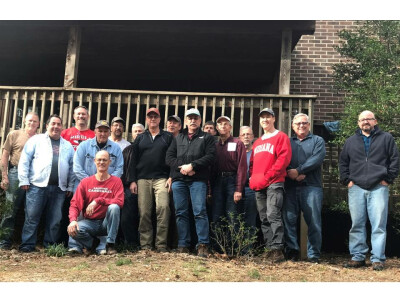 Men's Ministry 2019 Retreat
Men's Ministry Annual Retreat
Other Related Events:
Work and Fellowship Weekends
TBA at Camp Agape near Fuquay-Varina
TBA at Camp Agape Kure Beach
Contact: Tom Gebbia
Operation Inasmuch
A Morning of Serving the Community
Saturday, April 25, 2020 | 8:00 am-Noon
Resurrection Lutheran Church
And Activities:
Pick-Up Basketball
Saturdays in the Family Life Center Gym at 9:00 am
Not Meeting Currently
Join "Men's Pick-Up Basketball" group in RCB to receive email updates.
Men's Softball
Tuesdays and Thursdays, April through June
Email Adam Brake for details.
Habitat for Humanity
Contact Tim Hiteshew for details.
Habitat Weather Line: 919-833-1999, ext. 240
Camp Agape Work Days
Third Friday of every month for camp improvement projects and fellowship.
Contact Bill Timberlake for more information.
RLC Grounds Work Parties
Scheduled periodically throughout the year.
Mission Trips
Travel to different parts of the country and the world.
Contact: Ron Bostick
Resurrection Service Project (RSP)
Helping members of the congregation with small service projects.
Request membership to "RSP" group in RCB.
Contact Tim Hiteshew for details.

Please contact Tom Gebbia at for more information regarding the RLC Men's Ministry and any of the events.

For more information on Lutheran Hour Ministries' Men's NetWork or a specific video series, go to www.lhm.org/men.