Weekly Fellowship
Men's Ministry Weekly Fellowship meets Mondays at 7:00 pm in Room 240, Family Life Center, September through May. (Potlucks begin at 6:30 pm.) The weekly series opens with fellowship, a brief faith-based video relevant to men's issues, followed by small table discussion, and more fellowship. Men are invited to join any or all weeks as their schedule permits. Friends and neighbors welcome.
Potluck and Tool Gift Exchange - Monday, December 9 at 6:30 pm
This will be our last Men's Weekly of the calendar year.
We will start back up in January.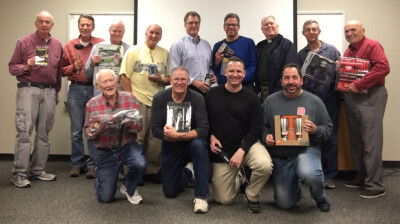 Monthly Breakfast
Men's Breakfast is held the second Saturday of the month, September through May. Join us at 7:30 am for breakfast, fellowship, song, and message in the Fellowship Hall. Come be fed and get your weekend started off well! All men, teenager and up, are invited.


Men's Ministry Monthly Breakfast
Annual Retreat
The 6th Annual RLC Men's Retreat & Service Project at Camp Agape near Fuquay-Varina was held on March 15-17, 2019. The retreat began Friday at 6:00 pm and proceeded through mid-day Sunday. Topic was Living Discipleship in a Hostile World. Led by Rev. Dr. Bill Seaman. There were several service projects completed. Plan to join us next year - March 20-22, 2020!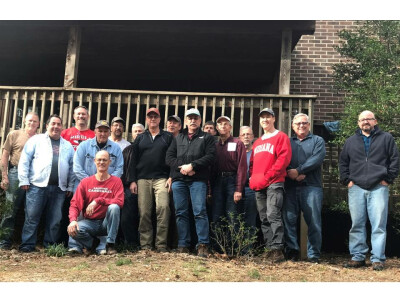 Men's Ministry 2019 Retreat
Men's Ministry Annual Retreat
Other Related Events:
Work and Fellowship Weekends
TBA at Camp Agape Kure Beach
March 15-17, 2019 at Camp Agape near Fuquay-Varina
Contact Bill Timberlake.
Operation InAsMuch
A Morning of Serving the Community
Saturday, April 27, 2019 | 8:00 am-Noon
Resurrection Lutheran Church
Camp Agape Spring Golf Outing
Raising Funds For Camp Agape Campership Fund
Monday, April 8, 2019
8:30 am Tee Off, 1:30 pm Lunch
Lochmere Golf Club, Cary
Format: Captain's Choice
Cost: $90 Single, $350 Foursome
RLC Contact: Brenda Peterson


And Activities:
Pick-Up Basketball
Saturdays in the Family Life Center Gym at 9:00 am
Join "Men's Pick-Up Basketball" group in RCB to receive email updates.
Men's Softball
Tuesdays and Thursdays, April through June.
Email Adam Brake for details.
Habitat for Humanity
Contact Tim Hiteshew for details.
Habitat Weather Line: 919-833-1999, ext. 240
Camp Agape Work Days
Third Friday of every month for camp improvement projects and fellowship.
Contact Bill Timberlake for more information.
RLC Grounds Work Parties
Scheduled periodically throughout the year.
Mission Trips
Travel to different parts of the country and the world.
Contact Ron Bostick.
Resurrection Service Project (RSP)
Helping members of the congregation with small service projects.
Request membership to "RSP" group in RCB.
Contact Tim Hiteshew for details.

Please contact Tom Gebbia for more information regarding the RLC Men's Ministry and any of the events.
For more information on Lutheran Hour Ministries' Men's NetWork or a specific video series, go to www.lhm.org/men.