Weekly Study and Fellowship
Join the Monday Evening Zoom Study and Fellowship!
Mondays, 7:00 pm
Contact Tom Gebbia at to receive a Zoom invite.
Men's Fire Pit Fellowship
Join us outside for fellowship in the RLC parking lot!
We are back to potentially meeting every other Thursday, weather dependent. Meet at the firepit in the 3rd row of the parking lot between 6:00 pm and 8:00 pm. Bring a chair, a beverage and snack, if you desire.
Join us when you can. Next Date: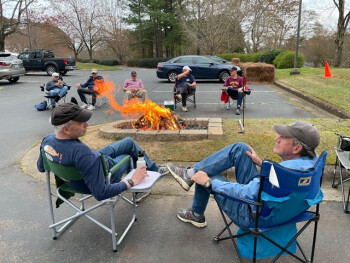 Men's Outdoor Breakfast - Saturday, June 5
Bring a camp chair as we gather for a men's outdoor biscuit and beverage breakfast. We will say grace and eat at 8:00 am, Pastor Jonathan will lead us in message starting around 8:30 am. There will be a variety of biscuits with coffee, water, and juice available.
We will meet at the fire pit in the 3rd row of the RLC parking lot.
Contact: Tom Gebbia ( )
During normal circumstances, the Men's Ministry Weekly Fellowship meets Mondays at 7:00 pm in Room 240, Family Life Center, September through May. (Potlucks begin at 6:30 pm.) The weekly series opens with fellowship, a brief faith-based video relevant to men's issues, followed by small table discussion, and more fellowship. Men are invited to join any or all weeks as their schedule permits. Friends and neighbors welcome.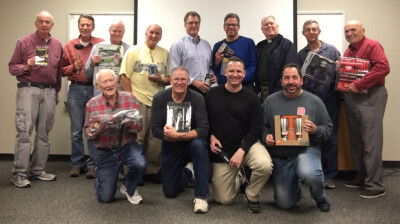 Potluck and Tool Gift Exchange - Monday, December 9, 2020

Monthly Breakfast
Usually, a Men's Breakfast is held the second Saturday of the month, September through May. Join us at 7:30 am for breakfast, fellowship, song, and message in the Fellowship Hall. Come be fed and get your weekend started off well! All men, teenager and up, are invited.
Men's Ministry Monthly Breakfast
Annual Retreat and Service Weekend
On Saturday, March 20, 2021, a group from the Men's Ministry participated in a full Day of Service at Camp Agape near Fuquay-Varina, NC. They enjoyed meals together and devotions, worked on service projects, and ended with fellowship. Service projects included trail mulching, basketball court striping, and gaga ball pit painting. This single day event was in lieu of the annual Men's Retreat weekend.
Mark your calendars!
Men's Retreat and Service Weekend - April 1-3, 2022
The weekend will start with a cookout and potluck dinner Friday evening and wrap up on Sunday morning. More details will be provided closer to the date.
If interested or have questions, contact Tom Gebbia at .
Men's Ministry Annual Retreat
Other Related Events:
Work and Fellowship Weekends
TBA at Camp Agape near Fuquay-Varina
TBA at Camp Agape Kure Beach
Contact: Tom Gebbia


Operation Inasmuch
A Morning of Serving the Community
Saturday, April 25, 2020 | 8:00 am-Noon
Resurrection Lutheran Church


And Activities:
Pick-Up Basketball
Saturdays in the Family Life Center Gym at 9:00 am
Not Meeting Currently
Join "Men's Pick-Up Basketball" group in RCB to receive email updates.


Men's Softball
Join your fellow church members in representing RLC in the Town of Cary's Church League. Games played Tuesday and Thursday nights, May through July. Practices start the first week of May. Team registration is closed for 2021. COVID-19 safety measures will be in place and can be found at https://www.townofcary.org/recreation-enjoyment/sports/adult-sports/adult-softball.
Habitat for Humanity
Contact Tim Hiteshew for details.
Habitat Weather Line: 919-833-1999, ext. 240


Camp Agape Work Days
Third Friday of every month for camp improvement projects and fellowship.
Contact Bill Timberlake for more information.


RLC Grounds Work Parties
Scheduled periodically throughout the year.


Mission Trips
Travel to different parts of the country and the world.
Contact: Ron Bostick


Resurrection Service Project (RSP)
Helping members of the congregation with small service projects.
Request membership to "RSP" group in RCB.
Contact Tim Hiteshew for details.


Please contact Tom Gebbia at for more information regarding the RLC Men's Ministry and any of the events.

For more information on Lutheran Hour Ministries' Men's NetWork or a specific video series, go to www.lhm.org/men.