You can sign up for Altar Flowers online!
Choose your favorite date for altar flowers in the Sanctuary and Contemporary Service. Flowers are ordered from Cary Florist and cost $45. Please use this link: https://bit.ly/3iFkHii or contact the church office at , 919-851-7248.
The NEXT 40 Campaign: Immeasurably More
Get the Mobile APP for RCB!
Search the APP store for Church Community Builder.
The APP is called Lead and it is free!
Did you ever wonder how the medallion came to be above the Narthex doors near the Sanctuary?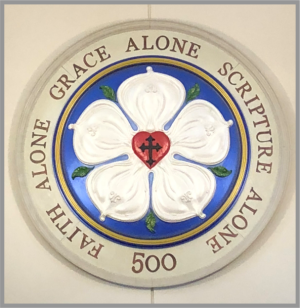 It was beautifully crafted by RLC members, Rob and Julie Koren, who usually attend the 8:00 am service! The Koren's made it for the altar at the Change the World: One Life at a Time event at Dorton Arena in Raleigh celebrating the 500th Anniversary of the Reformation in November of 2017. Afterwards, it was very carefully moved to hang above the doors in the Narthex. We are so thankful to have this beautifully made remembrance in our Narthex. Thank you, Rob and Julie!
Listen Like a Lutheran!
Did you know that you can hear distinctly Lutheran music and programs from several sources here in the Triangle?
KFUO Radio comes to you from St. Louis, MO. Christ for you. Anytime. Anywhere. Hear Sacred Music and Prayer, Worship Services, Bible Studies, Lutheran Confessions, and Practical Talk. Visit: kfuo.org
Lutheran Public Radio streams sacred music for the world. Hear instrumental and choral groups sing the music for the current season. Visit: lutheranpublicradio.org
Lutheran Hour Ministries has been bringing the changeless Christ to a changing world for nearly 100 years. The communication methods have shifted, but the message has remained the same. Check them out for Daily Devotions, Rev. Dr. Michael Ziegler's Sermon, or take a class! Visit: www.lhm.org
Now you can also access a variety of LHM-produced programs through SENT Radio: www.lhm.org/sentradio. Every hour, SENT Radio features sermons from Speakers for The Lutheran Hour through the years, as well as Scripture readings, hymns, and instrumentals. Morning prayer and evening vespers can be heard each day at 9 am. and 9 pm (CST). On Sundays, current sermon from The Lutheran Hour airs at 7:00 and 9:30 am, Noon, and again at 2:30 pm.