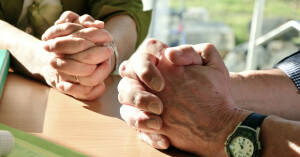 Most on-site church activities have been temporarily cancelled.
For questions, please contact the activity leader
or the church office ( , 919-851-7248).


Small groups are a gathering of people who meet regularly, with common interests, to develop closer relationships and to strengthen their faith in Christ. Each group is unique in offering a way for individuals to connect by sharing stories of life together, growing together in Christ, and finding ways to serve one another.
Why Participate?
Small groups make it possible for us to connect with others, making a special place by creating strong bonds of friendship, and sharing our faith life together. Christians grow spiritually when we regularly encounter God's grace through conversation and shared life's stories that can't be accomplished in larger settings. Group participants help one another grow through encouragement and trusting God completely.
If you have an interest or a suggestion for a small group, whether recreational, social, fellowship, or spiritual, or would like to be connected with a small group, contact Deb Oesterling, Connections Coordinator at .
Be devoted to one another in love.
Honor one another above yourselves.

Romans 12:10

The groups listed below are active and open to everyone. Check the weekly announcements for new group postings.
Don't see a group that fits your need or want to start a new group and don't know where to start? Contact Deb Oesterling.


Bagel Bunch for Men
Stay connected through online Zoom meetings!
Tuesdays, 7:30 am
Through RCB, join the group or email Dan Shaltanis prior to the start time to receive instructions on how to join the online meeting.
The Bagel Bunch is a group of mostly retired men that under normal circumstances meet Tuesdays from 7:30-9:00 am at Bruegger's Bagels, 760 W. Williams Street in Apex at the corner of Apex Peakway and Hwy. 55. Meet for an hour of fellowship and conversation -- tell stories, share concerns, and joke around! All men are welcome, come when you can.
CONTACT: Lyle Malotky


College Crew
The idea is for our college crew to keep rooted in faith, connected to RLC, and continue with that next step on the path that God has put before you. During this time especially, this is more important than ever right now! So whether you are in town or out, join us for a video series on Thursdays at 7:00 pm. If you are in town, come to The Warehouse! If you are out of town, contact Jenny Piontek for Zoom invite and you can be a part of it right at your school!
CONTACT: Jenny Piontek


Connections
A young professionals (20 or 30-something) group with a focus on Bible study and growing friendships that meets on Monday evenings at the home of Matt and Lauren Bowling in Fuquay-Varina.
CONTACT: Lauren Bowling


Emmaus Way - Walking and Talking
Time for couples and individuals of all ages to connect with one another through gentle exercise and fellowship. The group will make plans for a rich variety of events and activities they can do together to support one another.
CONTACT: Lyle Malotky


First Wednesday Luncheon for Ladies
Meets at 11:30 am at O'Charley's, 101 Ashville Avenue, Cary.
CONTACT: Emmy Cullen


H.E.R.O.E.S | Military and Veterans
This group supports veterans and active military at RLC.
CONTACT: Faith Shaw


Ladies Out and About

Small group of women who gather to attend local events, enjoy one another's company, and just have fun!
CONTACT: Teresa Gresham


Men's Ministry
Stay connected through online Zoom meetings!
Mondays, 7:00 pm
Through RCB, join the group or email Tom Gebbia prior to the start time to receive instructions on how to join the online meeting.
Under normal circumstances, RLC's Men's Ministry meets weekly on Mondays at 7:00 pm in Room 240 for a faith-based video, small table discussion, and fellowship. Potlucks are at 6:30 pm. Monthly breakfasts are held on the 2nd Saturday of the month (September-May) in the Fellowship Hall from 7:30-9:00 am.
LEARN MORE
CONTACT: Tom Gebbia or


Moms Together
Join other moms for food, fun, and fellowship on the 1st and 3rd Fridays (September-May) from 9:30-11:30 am in Fellowship Hall. Childcare available at minimal cost. New members welcome!
CONTACT: MaryAnn Unger

Monday Evening Women's Bible Study
Stay connected through online Zoom meetings!
Mondays, 7:00 pm
Through RCB, join the group or email Jamee Thieme prior to the start time to receive instructions on how to join the online meeting.
This Bible study offers a time to share every day life issues and let Scripture shed light on you and your pathway. Prayer support is part of this gathering that meets under normal circumstances on Mondays from 7:00-8:00 pm in Room 151 of the Family Life Center.
CONTACT: Jamee Thieme


The Piecemakers

Our quilters are working on face masks for COVID-19 protection, quilts for Sleep in Heavenly Peace bunk beds, and quilts for Lutheran World Relief. They are currently not meeting in person, but are continuing to work from their homes.
CONTACT: Diane Hoffmeister or Eileen Douglas


Prayer Shawl Ministry
Make shawls to give to people in need of comfort. Whether you are a seasoned pro or a beginner who would like to learn, all are welcome. Meets on the 1st and 3rd Sunday evening (September-May) from 4:30-6:00 pm in Room 133 of the Family Life Center.
CONTACT: Betsy Moll
Thank you to all knitters, hookers, and quilters who participated in the Operation InAsMuch Knit-a-Thon to benefit WakeMed NICU, Maternity, Pediatric Trauma, Heart Center and Rehab Center. 158 hats of various colors and sizes, 53 crocheted blankets, and 6 lap quilts were contributed by 11 knitters/hookers/quilters. This represents a 21% increase in our response from last year! WakeMed Volunteer Services was especially thankful for the blankets during the summer. They reminded me that their recipients sometimes return many years later with the items given to them still in their possession as memories of the comfort they provided at a stressful time in their lives.
Veteran's Lunch Crew
Join us for our monthly lunch meet-up! Share your 1st-hand experiences regarding service, benefits, and healthcare, or anything else of mutual interest. It will bond us together and build each other up to pray for and help other Veterans. We try to meet regularly for fellowship, encouragement, and support!
CONTACT: Gary Brown


Visual Faith

Visual Faith incorporates a multitude of practices for all ages that include visual prayer and Bible journaling. It considers prayer as the foundation and umbrella for all time spent in God's Word.
Join our Visual Faith Team in Caring for Our Members
Send cards to members who need encouragement and support. Sharing personal notes is a special way to reach out and share the love of Jesus.
If you would be willing to help with coloring designs at home, we can send them electronically. These will be added to the personal notes being sent.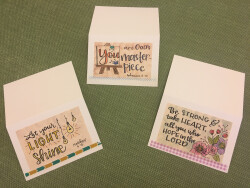 CONTACT: Jamee Thieme


Women's Book Club - Sunday

Sunday book club meets year round at RLC on 4th Sunday at 6:30 pm. Small group of 12 members, all of whom have young adult (20's) children. Members discuss Christian, inspirational, fiction, and non-fiction books, many of which are available through the public library.
CONTACT: Terri Nance


Young Families Bible Study

Meets the 1st and 3rd Tuesdays of the month from 6:00-7:30 pm at the home of David and Leah Robison in Apex. The group consists of families with young children, birth-5th grade. Babysitting provided.
CONTACT: David Robison