Rev. Dr. Jonathan Blanke, Senior Pastor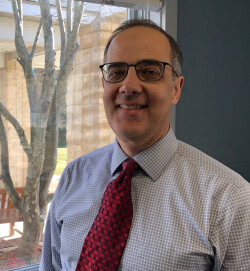 Pastor Jonathan's Corner for Week of September 19-25
When There Is No "Delete" Button (James 3:1-12)
Every one of us has no doubt fired off an angry letter or e-mail that in retrospect we decided not to send. Putting pen to paper or fingers to keyboard allowed us to vent. But if patience and level-headedness led us to think better of pressing "send" in the clear light of day 24-hours later, we realize that we might have saved ourselves a job or a friendship as a result. There is no opportunity to hit the "delete" button when words spoken out of anger or pain have been voiced.
The consequences of such "undeleted" words can be devastating. Small wonder, then, that the author of the Biblical book of James describes the tongue, a symbol for all forms of human communication (spoken, written, verbal, nonverbal) as out-of-control. "No one can tame the tongue—a restless evil, full of deadly poison. With it we bless the Lord and Father, and with it we curse those who are made in the likeness of God. From the same mouth come blessing and cursing. My brothers and sisters, this ought not to be so…. Show by your good life that your works are done with gentleness born of wisdom."
Where have your words caused brokenness and pain for the people in your life? In worship we sing songs of praise to our Creator and Redeemer…but our words of blessing do not stop there. The world is accustomed to spontaneous outbursts of unfiltered passion much of which is not intended to build others up. Followers of Christ are called to a counter-cultural movement. Though individually they are incapable of the task, the Spirit of Christ works among them to bless God AND to bless others, too.
Let's keep our songs of praise lifted up to God today going all week long. Through the saving work of the Spirit they will, more and more, spill over into words of blessing for those whose lives we are privileged to touch!


Community Building Among RLC Households Continues
Thanks to the efforts of many RLC volunteers, we now have 24 geographic zones covered by those who are building community with phone calls and invitations for prayer requests from all RLC member households (both active and inactive). Our newest community builders:
Zone 9 (West Fuquay-Varina [reassigned]): Linda Merrill
Zone 21 (South Apex, Central): Autumn Yamamura
Zone 22 (West Raleigh, Central): Glenda Moser
Zone 23 (East Cary, 2): Diana Rogers
Zone 24 (Northeast Cary): Tim LaCroix
If you receive a phone call or email from any of our community builders who are holding you and your neighbors in their prayers, please don't hesitate to respond. We are grateful for their service!


Fellowship Pads Return This Weekend, September 18-19
RLC has been blessed with many new faces in recent weeks! To assist us in keeping track of all our RLC friends who are worshipping in person (both old and new), we will be instituting the fellowship pads again, starting this weekend. We will "pass the pads" during the Offertory and request that everyone present sign their name. If you're worshipping with us in person, you may want to have a little portable hand sanitizer on hand.


Jenny Piontek Installed as Youth Group Director this Weekend, September 18-19
This weekend we are pleased to recognize Jenny Piontek (formerly RLC High School Youth Director) as Director of Middle and High School Youth ministry at RLC. God continue to bless and further your work among us, Ms. Jenny!


Celebration of Life in Christ, Memorial Service and Rite of Committal for RLC Member Elaine Wood
We invite members of the congregation to attend a Memorial Service and Rite of Committal for RLC member Elaine Wood on Saturday, September 25. A brief time of visitation with the family will occur at 1 PM, with the Memorial Service and Committal occurring back-to-back, starting at 1:30 PM that day. Please join us.
Love and joy in Christ,
Pastor Jonathan
---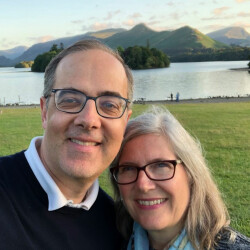 Pastor Jonathan Blanke grew up in Richmond, Virginia. He received his Bachelor's degree from College of William and Mary in Virginia and attended Concordia Seminary in St. Louis, Missouri, where he earned a Masters of Divinity degree and a Doctor of Philosophy degree in Biblical Studies, Book of John. He served as a Vicar at Messiah Lutheran Church in Richardson, Texas.
The Blanke family lived in Japan while he served as pastor and missionary to Okinawa Lutheran Church and taught Biblical Studies at Japan Lutheran College in Tokyo.
Pastor Jonathan lived in southern Maryland from January 2014 to November 2019 and was thankful to have served as the Sole Pastor at Trinity Lutheran Church in Lexington Park, Maryland.
He and his wife, Juli, have two grown children. In his free time, Jonathan likes to travel, "play around" on the piano, and enjoy the outdoors.
Click HERE to view a brief video from Pastor Jonathan.