Rev. Dr. Jonathan Blanke, Senior Pastor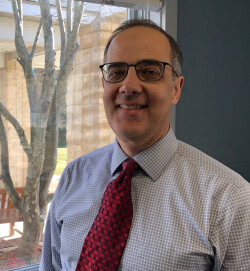 Pastor's Corner - Week of March 7-13, 2021
Dear brothers and sisters in Christ,
"I believe in the holy Christian Church." Thus goes the familiar line from our Creed. What picture do you conjure up with the word "Church"? Stained glass? People gathered to a favorite pew in holy contemplation? Men and women volunteering in thrift stores and food pantries to serve those in need? All of those are pictures of what "Church" can mean. But do you also visualize forgiven sinners, fortified with the indwelling Christ, actively engaged in the lives of others in ordinary ways: in the office, at school, on the playing field, at home…wherever the Spirit of God is present? As we journey through this season of Lent we find Jesus performing a kind of open concept remodel on the Jerusalem temple (see John 2:13-21). His action there, baffling those who witnessed it at the time, begins a life told in the Gospel of John that literally "un-churches" the church of his day. Jesus' demolition work in the Jerusalem temple demonstrated that this place would no longer be the focus for those who trusted in the God of Abraham. Jesus fulfilled and surpassed all that the temple had stood for. His death would be a once-and-for-all sacrifice for sin. His resurrected body would be the Holy-of-Holies where the living God of the universe would now dwell among His people. And as important as gathering together in worship would continue to be for the people of God, the new "gravitational pull" of their faith journey would now include a new direction. No longer only about gathering together and bringing others "in"…it would now also be about moving from the enclosures of worship spaces, accompanied by the indwelling Spirit of God, "out." What does being "un-churched" mean for you? Who are the people you encounter everyday who need to know the love and presence of God...through you?
As you consider the answers to these questions, here is a bit of news:
There is a strong possibility that a new Associate Pastor will be joining our current leadership team at RLC in fiscal 2021-2022, this is a great time to challenge all of you who did not make a pledge to support RLC ministry last fall to consider doing so by the end of April, 2021. What is a "pledge" you wonder? It is merely a promise you make before God (and no one else) regarding the financial gift you choose to give, before you give it. It is therefore an opportunity to give intentionally (of our "first" fruits) rather than accidentally (with our "leftovers")...to support God's kingdom work in our midst. If you made your pledge for 2021 last year, you are all set! I would love to see us add 50 NEW pledges --folks who have never made a pledge to RLC before, but are willing to step up and lend a hand now--to the 75 or so pledges we gathered for Stewardship weekend in 2020. There is a real need. But this is a modest goal. We can do this! You will see more about your opportunity to be counted in to this pledge drive in the weeks and months ahead.


We have received word from Concordia Seminary that one of the three names we approved at the Call Meeting last Sunday (Seminarians Zachery Sarrault, Brenden Harrell, and Bradley Singer) will be recommended to the Southeastern District and the Council of Presidents on our behalf. Thanks to your participation in the meeting and vote in favor of our Call Committee's recommendation, another step of this important process has been reached! Please continue to keep the path for a potential future under-shepherd of RLC in your prayers.


This weekend we welcome groups of up to 50 to sign up for Holy Communion at 6 PM on Saturday (March 6), 8 AM traditional service (with Holy Communion) on Sunday morning, and 11 AM Praise and Worship. Small group Holy Communion at 1 PM will also meet. Midweek Lenten services following the theme "In the Footsteps of Jesus" this week to the Upper Room the night before Jesus is condemned and put to death. Lenten offerings will go to support Lutheran Hour Ministries, Hope International, and the Inter-Faith Food Shuttle. To attend any of these services, please sign up for the service of your choice here.


As we make concrete plans in the months ahead regarding our church budget for the new fiscal year…as we recommit our time and talents to God's mission…we have all that we need to touch the hearts of new people and engage familiar friends and family in new ways, too. May God continue to guide and direct His "un-churched" people, according to His mission--not ours. And may the blessings of the Lord of the cross be yours today and all week long!
Shalom in Jesus,
Pastor Jonathan
---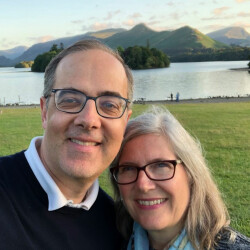 Pastor Jonathan Blanke grew up in Richmond, Virginia. He received his Bachelor's degree from College of William and Mary in Virginia and attended Concordia Seminary in St. Louis, Missouri, where he earned a Masters of Divinity degree and a Doctor of Philosophy degree in Biblical Studies, Book of John. He served as a Vicar at Messiah Lutheran Church in Richardson, Texas.
The Blanke family lived in Japan while he served as pastor and missionary to Okinawa Lutheran Church and taught Biblical Studies at Japan Lutheran College in Tokyo.
Pastor Jonathan lived in southern Maryland from January 2014 to November 2019 and was thankful to have served as the Sole Pastor at Trinity Lutheran Church in Lexington Park, Maryland.
He and his wife, Juli, have two grown children. In his free time, Jonathan likes to travel, "play around" on the piano, and enjoy the outdoors.
Click HERE to view a brief video from Pastor Jonathan.