Rev. Dr. Jonathan Blanke, Senior Pastor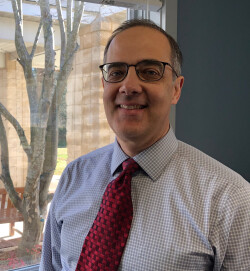 Pastor's Corner for October 1-7
Divine Heart Surgery
(Ezekiel 18:1-4; 25-32)
This past week I was once again on the receiving end of one of modern science's miracles. This time it was a laparoscopic cholecystectomy — an outpatient procedure to have my gall bladder removed. One reason to go ahead with it was my own family history. Both Mom and Dad had experienced gall bladder trouble themselves. But when ordinary tests my doctor did indicated my own susceptibility to a gall bladder attack, the decision was an easy one: get it taken care of! So even though family history was a factor in my treatment, the decision to proceed with the surgery resulted from a discussion with my own physician and surgeon who knew what I needed. Now, thanks to that recommendation to have the procedure done, I'm on the other side of it, eating whatever I want and hardly missing the gall bladder I no longer have.
The Scriptures talk about another kind of family history that goes back to Adam and Eve: a family history regarding a wayward heart. Not a heart that pumps blood, but the kind that yearns to do its own thing — not God's thing. The prophet Ezekiel wants us to know that God is a Good Physician. God will not deal with us solely according to the wayward heart of our parents or grandparents. He does His own diagnosis of us and calls each of us to repent… each of us to turn to Him and live! And though He calls us in this text to make for ourselves a "new heart" (v. 31), His rescue comes from the promise of divine heart surgery only He can accomplish: "I will remove [your] heart of stone," He promises through the prophet later in the book of Ezekiel. "I will give you a new heart and a new Spirit I will put within you (36:26)."
Does God overlook what so often seem to you and me the benign symptoms of a wayward heart? No. The cancer within us must be taken care of. But his call is to repentance. His healing power in us creates in us new and purified hearts (Psalm 51:10). Receiving together again today the divine heart surgery of our Good Physician, we are healed and made new. Let us return to our God again today… that we may live.

RLC Worship in Ritter Park @ 11 AM Sunday, October 1; Children's Sunday School @ 9:30 AM
Join us for a day of celebration and fellowship at the Ritter Park shelter this Sunday! Sunday School for early childhood through 5th Grade will take place at the park starting at 9:30 AM. Then the service will get underway at 11. We invite you to bring a picnic lunch (drinks will be provided) and stay awhile after the service is over, enjoying the day with us. Bring your whole family! Bring a friend!

Peace and joy in Christ,
Pastor Jonathan
---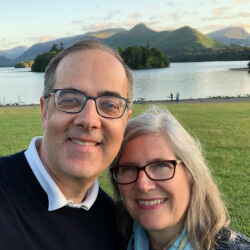 Pastor Jonathan Blanke grew up in Richmond, Virginia. He received his Bachelor's degree from College of William and Mary in Virginia and attended Concordia Seminary in St. Louis, Missouri, where he earned a Masters of Divinity degree and a Doctor of Philosophy degree in Biblical Studies, Book of John. He served as a Vicar at Messiah Lutheran Church in Richardson, Texas.
The Blanke family lived in Japan while he served as pastor and missionary to Okinawa Lutheran Church and taught Biblical Studies at Japan Lutheran College in Tokyo.
Pastor Jonathan lived in southern Maryland from January 2014 to November 2019 and was thankful to have served as the Sole Pastor at Trinity Lutheran Church in Lexington Park, Maryland.
He and his wife, Juli, have two grown children. In his free time, Jonathan likes to travel, "play around" on the piano, and enjoy the outdoors.
Click HERE to view a brief video from Pastor Jonathan.