Rev. Dr. Jonathan Blanke, Senior Pastor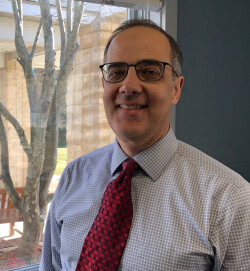 June 24, 2020
Dear friends,

Greetings to you all at the mid-point of your week. The crucified and risen Son of God is with us always! What comfort to know that a very special peace the world does not know is a peace we can always find in Jesus!

By now you probably heard that North Carolina Governor Roy Cooper has extended the Phase 2 reopening measures already in place across our state. Please show your care and concern for others by wearing a mask when you are out in public places and are unable to socially distance. The sooner coronavirus conditions in our state improve, the sooner we will all be able to get back to normal--or something like it!

Last Sunday we enjoyed a beautiful morning outside at 10:30 again. This coming Sunday, June 28, we will have our last in-person 10:30 outdoor service for a while. If only this beautiful Sunday morning weather could last all summer...but that is not likely to happen. We invite you to come out one more time and enjoy the main elements of the service (especially the sung portions that can be sung at full volume from the comfort and safety of your car) including Holy Communion, which you can receive in person, together with the members of your church family.

At 9:00 AM we will once again make Holy Communion available by live stream for all who are unable to worship with us in person. I've updated the instructions for receiving Holy Communion at home and attached them again here, in case you missed the attachment in May. For anyone who would like to pick up pre-packaged communion sets (sets including non-alcoholic wine and gluten-free host are also available) ahead of time, we invite you to stop by church this Friday, June 26, from 12 to 3 PM and get what you need.

Finally, please don't forget that you can always sign up for in-person small group reception of the Lord's Supper in the church sanctuary at the following link: www. signupgenius.com/go/ 10c0d4dabae2eabff2-holy. If you would like for one of us to commune you or your family in your home, please contact me with that request, and I will schedule you. I can be reached at my email: .

We are grateful for the many people who make it possible for the ministry of Resurrection Lutheran Church to go on. As I saw on a church sign recently: "The building is closed, but church is open as usual." We remember one another in our prayers and seek ways to be open and engaged with one another and the world as the peace of God in Christ empowers us.

Shalom in Jesus,
Pastor Jonathan
---
June 19, 2020
This past week I drove past a sign that said "God is working in the waiting." That got me to thinking: My timing often is out of line with God's timing.
Remember this passage: "God has made everything beautiful in its time" (Ecclesiastes 3:11)? The writer of Ecclesiastes comforts us...ever a people who are sure that the timing of things is all "wrong"...that the role we play in the lives of others and the work we do in spite of the swirl of events around us that is outside our control is, in God's time, a thing of beauty. Or there is this passage from Isaiah: "The Lord is the everlasting God, the Creator of the ends of the earth. He does not faint or grow weary; his understanding is unsearchable. He gives power to the faint, and to him who has no might he increases strength. Even youths shall faint and be weary, and young men shall fall exhausted; but they who wait for the Lord shall renew their strength; they shall mount up with wings like eagles; they shall run and not be weary; they shall walk and not faint (Isaiah 40:28-31)."
This Father's Day Sunday we are happy to welcome Pastor Jon Richter back to the pulpit at RLC for a focus on Jesus' encouragement to us, "Do not be afraid!" Our worship live stream without Holy Communion will begin at 9 AM (you can find it at http://www.rlcary.org/about-us/online-worship/) and be followed by our outdoor service with Holy Communion at 10:30, in the church parking lot. You can join the members of your church family and receive the Lord's Supper together with your car air conditioning running, the audio for the service on your car radio (FM 87.9), all while making a joyful noise! Small group reception of Holy Communion inside the church sanctuary begins at 1 PM. To sign up, click here: https://www.signupgenius.com/go/10c0d4dabae2eabff2-holy.
Resurrection Lutheran Church, School and Preschool are waiting. Waiting to see what is in store for us this summer. Waiting to see what unfolds this fall. But God is working in the waiting. God has made everything beautiful in its time!
See you online or in person this Sunday!
Pastor Jonathan
---
June 11, 2020
Dear family and friends,
It is Thursday evening and a letter from me must mean that we are once again sending out instructions about Sunday services. I pray that this finds you encouraged and strengthened in the grip of your loving God who continues to uphold and care for us all.
Live stream worship beginning at 9 AM continues this week for remote viewing only. In case you miss the service at 9, please check back or activate your YouTube app notifications to alert you to the video posting later in the day.
This Sunday our outdoor worship service, beginning at 10:30 AM, will also include the celebration of Holy Communion! Many of the guidelines for this service will continue for this week also:
We ask that you arrive a little early; cars will be allowed into the parking lot as early as 10 AM.
Please enter through the lower (Family Life Center side) parking entrance.
Anyone giving an offering by envelope should prepare it ahead of time and submit it upon entering the church parking lot.
If you have the option of driving a smaller car, please do; trucks and vans must be parked in rows furthest from the front so as not to block the broadcast signal.
If you have difficulty backing into a parking place, please arrive early and communicate that to the parking attendant upon entering the parking lot.
Once parked on the church property, please do not move your car to a different parking place unless directed to do so by an attendant.
Bathrooms will not be accessible as the church and school will be closed during the service; please remain inside your car at all times.
Worship content will be broadcast to your car FM radio channel 87.9.
If you unable to access the bulletin on your personal device during worship, please print it ahead of time and bring it with you; extra bulletins will also be made available.
In the event of inclement weather, announcements about worship cancellation will be posted on our church web site by 8:30 AM Sunday morning.
Since we will also celebrate Holy Communion this Sunday, please also....
Be prepared to tell the attendant at the parking lot entrance how many people in your car are communing and which of the four pre-packaged communion sets (wine + gluten host or "A," grape juice + gluten host or "B," wine + gluten-free host or "C," and grape juice + gluten-free host, or "D") are needed. Example: a car with three people communing and one person desiring grape juice instead of wine could ask for "2 'A's and 1 'B'."
Each pre-packaged communion cup with host is hermetically sealed and sanitary. (You may observe them at this link: https://wccups.com.) We ask that you keep the cup and cup base sealed and unopened until the beginning of Holy Communion.
Return your empty individual communion cup at the end of the service to our volunteers in the parking lot as you leave to go home.
These are a lot of instructions to remember! No worries. We will have a pre-printed list of these instructions ready for you when you come...and guide you through the process. If you signed up for small group in-person reception of Holy Communion on the afternoon of June 14, please remember...
If you arrive early, remain in your car until 5 minutes prior to your scheduled worship time.
Enter by the door nearest the church sanctuary, which will be open; the service will begin as promptly as possible. (There will be no need to handle either a hymnal or bulletin.)
All worshipers, except for those under 2 years of age or otherwise unable to oversee their own personal use of a face mask, should enter the sanctuary wearing a face covering; face masks will of course be removed prior to reception of the Lord's Supper.
If you need to use the rest room while in the building, please notify a staff member.
Please exit and return to the parking lot by way of the office entrance.
Whether you worship with us at home or in your car this Sunday, let's all "make a joyful noise unto the Lord"!
Pastor Jonathan
---
Previous Pastor's Letters:
June 4, 2020
May 31, 2020
May 24, 2020
May 17, 2020
May 10, 2020
April 9, 2020
March 27, 2020
March 13, 2020
March 10, 2020
---
The Gospel of John
During the first block of Winter Christian Education classes for adults, Pastor Jonathan led a class on The Gospel of John. For more information regarding this class, go to The Gospel of John page.
---
Installation of Rev. Dr. Jonathan Blanke
---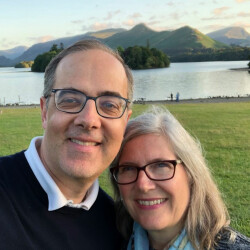 Pastor Jonathan Blanke grew up in Richmond, Virginia. He received his Bachelor's degree from College of William and Mary in Virginia and attended Concordia Seminary in St. Louis, Missouri, where he earned a Masters of Divinity degree and a Doctor of Philosophy degree in Biblical Studies, Book of John. He served as a Vicar at Messiah Lutheran Church in Richardson, Texas.
The Blanke family lived in Japan while he served as pastor and missionary to Okinawa Lutheran Church and taught Biblical Studies at Japan Lutheran College in Tokyo.
Pastor Jonathan lived in southern Maryland from January 2014 to November 2019 and was thankful to have served as the Sole Pastor at Trinity Lutheran Church in Lexington Park, Maryland.
He and his wife, Juli, have two grown children. In his free time, Jonathan likes to travel, "play around" on the piano, and enjoy the outdoors.
Click HERE to view a brief video from Pastor Jonathan.