Welcome, Rev. Dr. Jonathan Blanke,
our new Senior Pastor!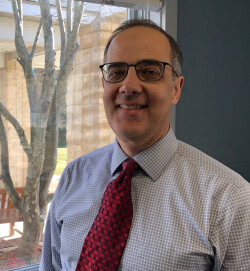 This Weekend!
For the first block of Winter Christian Education classes for adults, there will only be one class offered on The Gospel of John led by Pastor Jonathan. This class will run for 7 weeks, January 12-February 23, in the Fellowship Hall. For more information regarding this class, go to The Gospel of John page.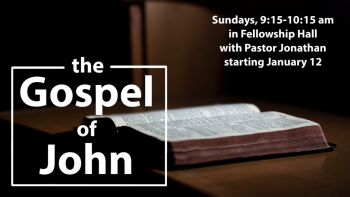 To kick off this class, there will be a special overview event including a Soup Supper on Saturday, January 11, similarly to the Lord's Prayer class we held earlier this year. As we come together for this event, we will also recognize Pastor Jon Richter for his dedicated service as our Vacancy Pastor during our transition.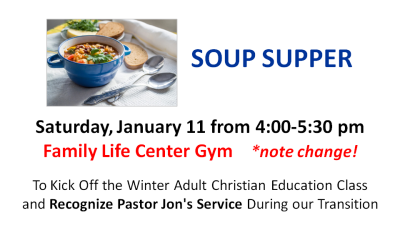 Wonderful time at the Meet and Greet with Pastor Jonathan and Juli on Sunday, January 5 during the education hour in the Fellowship Hall!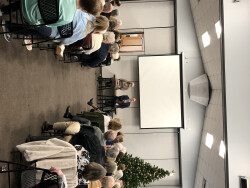 Pastor Jonathan's installation was held on Sunday, December 15 at 4:00 pm in the Sanctuary. A reception followed in the Fellowship Hall.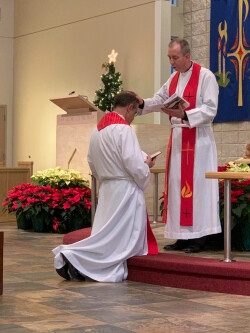 Installation of Rev. Dr. Jonathan Blanke

On December 7/8, he preached at all services.

On Wednesday, December 4, Pastor Jonathan participated in Resurrection Lutheran School's Chapel service at 8:40 am.
He also presided over the Hanging of the Greens Advent worship at 6:15 pm.
To help him get to know us better, we encourage everyone to wear name tags for the next couple of weeks. They are available in the Narthex and in the Family Life Center lobby.
---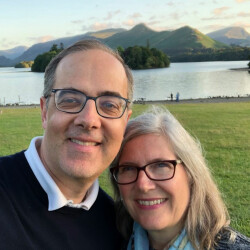 Pastor Jonathan Blanke grew up in Richmond, Virginia. He received his Bachelor's degree from College of William and Mary in Virginia and attended Concordia Seminary in St. Louis, Missouri, where he earned a Masters of Divinity degree and a Doctor of Philosophy degree in Biblical Studies, Book of John. He served as a Vicar at Messiah Lutheran Church in Richardson, Texas.
The Blanke family lived in Japan while he served as pastor and missionary to Okinawa Lutheran Church and taught Biblical Studies at Japan Lutheran College in Tokyo.
Pastor Jonathan lived in southern Maryland since January of 2014 and was thankful to have served as the Sole Pastor at Trinity Lutheran Church in Lexington Park, Maryland.
He and his wife, Juli, have two grown children. In his free time, Jonathan likes to travel, "play around" on the piano, and enjoy the outdoors.
Click HERE to view a brief video from Pastor Jonathan.
Thank you for your continued prayers as Pastor Jonathan and Juli settle into their new home in North Carolina. Also, please pray for Trinity Lutheran Church as they enter this new chapter and begin their process of calling a pastor.