Rev. Dr. Jonathan Blanke, Senior Pastor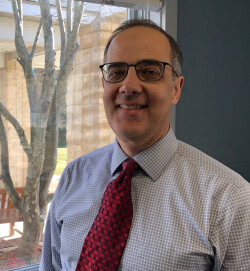 Pastor's Corner for November 28-December 4
A King for All
(Luke 21:25-36)
Sometimes it's not only what the Scriptures say— but what they leave out that gets our attention. In St. Luke's account of Jesus' triumphant entry into Jerusalem, he makes note of the words of the crowd who came out to greet Jesus: "Blessed is the King who comes in the name of the Lord!" Seems unremarkable, right? But what Luke does not record in his account are the shouts of some in the crowd remembered by other gospel writers that Jesus is the "Son of David" (Matthew 21:9) and "King of Israel" (John 12:13). It's a minor difference, but one worth noting. Why should this small detail matter? St. Luke records the events of Jesus' life as one who is a Savior for Israel, indeed— but especially for all nations of the world. As such Jesus is not only welcomed as "King of Israel" but as "King"! He is a Savior for all nations.
Jesus, Savior of all nations, is our theme for Advent this year. So as to introduce some of our church members and friends who have joined our community from all over the world, I've asked RLC folks with experience of the Christian church in other nations to share brief descriptions of how Christmas is celebrated in the countries they know. Sometimes the customs are very similar— sometimes quite different. The first submission is from RLC member Martin Kunkel, who came to RLC from Brazil:
"In Brazil, we have several Christian holidays, as still 63% of the population is Catholic. However, for the Lutheran Church in Brazil, Christmas and Easter celebrations are the most important dates in the Christian Calendar. In all Lutheran Congregations, Advent and Christmas Eve are celebrated with great joy. Just like here in the US, we decorate our homes with Christmas trees, colored lights, and the manger, that reminds us of the simplicity with which Christ was born. Usually this scenario (the images with Joseph, Mary, manger, lambs, cows, etc.) we install under the Christmas tree during Advent. But just missing the baby, Jesus. The manger is empty during this time. So, at Christmas Eve Jesus is placed in the manger as a sign of His Birth, and all gifts and presents are around the manger to distribute later.
You can see in the picture a Christmas tree at Mom's home… Gifts, candles, lights, the manger under the tree…. In my family we still use actual candles around the Christmas tree… Nowadays it is very rare to burn candles around the tree. Usually just colored led lights. On Christmas Eve, we always go to worship first, and afterward celebrate the birth of Christ with abundant food and distribution of gifts. It is the greatest moment for our families to be together, reading some words from the Bible, praying, and hanging out to celebrate the Birth of Christ."
Jesus Christ, the light of the world is coming again! We prepare to celebrate the birth of our Savior for all nations… together.

New Community Facilitators for Zones 26, 31, and 34
I'm grateful for our community facilitators for zones across our area who make regular phone calls to check in and ask about prayer requests to people of our congregation— both active families and those we have not had the chance to see in person for a while. We now have a total of 34 zones —the complete number of zones for our congregation— though I still need to line up community facilitators for a few more areas. Our newest community facilitators:
- Zone 26, East Apex and West Raleigh (Zip Codes 27539 and 27606): Ron Carrea
- Zone 31, Southwest Cary (more from Zip Code 27518): Tom Gebbia
- Zone 34, Central, North, and East Raleigh (Zip Codes 27607, 27608, 27609, 27612, 27615, and 27616): Daisy Morris
If you receive a phone call or email from any one of our community facilitators who are holding you and your neighbors in their prayers, please don't hesitate to respond. We are grateful for their service!

Memorial Service and Celebration of Life in Christ for Fuad Akil Rihani, Saturday November 27 at 11 AM
Next Saturday we are privileged to gather with the family of Fuad Rihani, now called home to glory, for a brief time of remembrance and thanksgiving to God for the gift of this brother in the faith. Following the service, the family will be hosting a reception in the Family Life Center. Please join us if you are available. If you are not able to be in town for the event, we invite you to view the service on our church's YouTube channel (Resurrection Lutheran Church, Cary NC).

Save the Date: RLC Congregational Meeting to Convene Sunday, December 12 at 1 PM
We invite all members of RLC to gather Sunday, December 12 in the Family Life Center for our semiannual Voters' Meeting and election of new Church Council members following the 11 AM service on December 12. Information regarding the slate of candidates and agenda for the meeting will be distributed separately from these announcements. For information, please contact Barry Needle.

Peace and joy,
Pastor Jonathan
---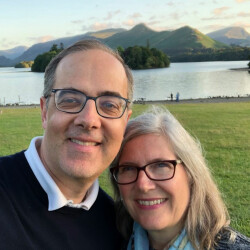 Pastor Jonathan Blanke grew up in Richmond, Virginia. He received his Bachelor's degree from College of William and Mary in Virginia and attended Concordia Seminary in St. Louis, Missouri, where he earned a Masters of Divinity degree and a Doctor of Philosophy degree in Biblical Studies, Book of John. He served as a Vicar at Messiah Lutheran Church in Richardson, Texas.
The Blanke family lived in Japan while he served as pastor and missionary to Okinawa Lutheran Church and taught Biblical Studies at Japan Lutheran College in Tokyo.
Pastor Jonathan lived in southern Maryland from January 2014 to November 2019 and was thankful to have served as the Sole Pastor at Trinity Lutheran Church in Lexington Park, Maryland.
He and his wife, Juli, have two grown children. In his free time, Jonathan likes to travel, "play around" on the piano, and enjoy the outdoors.
Click HERE to view a brief video from Pastor Jonathan.