Rev. Dr. Jonathan Blanke, Senior Pastor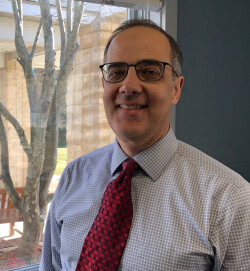 Pastor's Corner - Week of November 22-28
Dear brothers and sisters in Christ,
It's the end of the year. The church year, that is. It's also almost 51 weeks after Juli and I first made our way to the Research Triangle with all our earthly possessions in tow. What a year it has been! Though things haven't always been easy in 2020, navigating the life of the church in the midst of a pandemic has taught me to put my trust in the One who provides all that we ever truly need! God is good. We realize as Thanksgiving rolls around this year that we are truly blessed and have much to give thanks to God for.
Speaking of Thanksgiving... RLC's Thanksgiving Eve service will not be in-person this year. Stay home and stay safe! But don't forget to tune in at 6:00 PM on Wednesday, November 25th. The service will remain up on our YouTube channel to view on Thanksgiving Day or later. You can click here to find out more. CDC recommendations for how to plan for and execute Thanksgiving in your home with fewer risks from COVID this year can be found here.
This weekend, Holy Communion will be available Saturday evening at 6 PM, Sunday morning at 10:45 AM, and for groups of 10 people or less in the main sanctuary at 1 PM.
As always, please sign up here if you plan to attend any service in person.
I'm grateful for everyone who took part last weekend in the Town Hall conversation on a possible post-COVID worship schedule time change! The congregational vote to decide whether or not to move forward with the change post-COVID (once the time is right) will occur at the semiannual voters' meeting December 6th. Please keep this important decision for the life of our congregation in your prayers. And please make plans now to attend the congregational Zoom meeting on December 6.
Advent devotion books are at church ready to be picked up. This year we are featuring a new devotional by former LCMS seminary professor Reed Lessing entitled Prepare Ye! Every devotion in the series has a Bible verse, a reflection, and a prayer. As you decorate and make plans for Christmas, we don't want to leave out the most important Christmas preparation of all: preparing our hearts for the coming of the Christ child.
There are lots of people who will likely be more isolated than usual this Thanksgiving. For introverts, that might be a welcome change! For others, it will not be so easy. Now is a good time to set up a phone call or FaceTime with someone who won't be able to be with you or other family/friends in person. You need not physically "welcome [someone] in" (Matthew 25:43) to serve Jesus this year. It is hard to believe now, but the day for visiting and receiving one another in person will eventually return again! Right now, the Good Shepherd calls us, His sheep, by name, empowering us to serve one another and in the process, even serve Him (Matthew 25:40)! With one eye on the shortness of the time we have to be a blessing to one another here below, we seek out and share our time with others.
Giving thanks to God for all of you...
Pastor Jonathan

---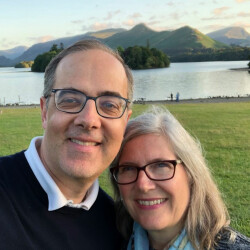 Pastor Jonathan Blanke grew up in Richmond, Virginia. He received his Bachelor's degree from College of William and Mary in Virginia and attended Concordia Seminary in St. Louis, Missouri, where he earned a Masters of Divinity degree and a Doctor of Philosophy degree in Biblical Studies, Book of John. He served as a Vicar at Messiah Lutheran Church in Richardson, Texas.
The Blanke family lived in Japan while he served as pastor and missionary to Okinawa Lutheran Church and taught Biblical Studies at Japan Lutheran College in Tokyo.
Pastor Jonathan lived in southern Maryland from January 2014 to November 2019 and was thankful to have served as the Sole Pastor at Trinity Lutheran Church in Lexington Park, Maryland.
He and his wife, Juli, have two grown children. In his free time, Jonathan likes to travel, "play around" on the piano, and enjoy the outdoors.
Click HERE to view a brief video from Pastor Jonathan.