Rev. Dr. Jonathan Blanke, Senior Pastor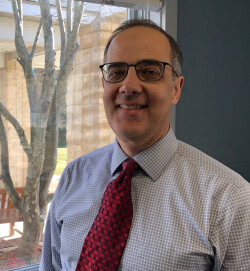 September 17, 2020
Dear Resurrection friends and brothers and sisters in Christ,
This week begins a 4-week sermon series on St. Paul's letter to the Philippians, sometimes termed St. Paul's "friendship epistle." Paul is writing a letter to lift up his friends and fellow-believers in Philippi; he is also encouraging the Philippians in their struggle with the culture of their time and place (where the Roman emperor is "Lord" and "Savior") and warning them away from internal divisions that get in the way of their gospel witness. The letter of Philippians encourages not only people of a distant time and place...it speaks an important Word to you and me today.
Much has taken place lately with the scheduling of some in-person events, other cancelled yearly events/traditions, and the opportunity to view some content of church activities (and not others) remotely via social media platforms like YouTube or videoconferencing services like Zoom. Add to that set of circumstances an ongoing conversation around the possibility of a changed worship schedule and the present moment is an opportune time to go over what exactly is going on right now at Resurrection Lutheran Church, and why!
Starting with the "bad news" about what is different or not yet happening this year:
Starting one month ago (August 16), Resurrection Lutheran Church opened the door a little wider to in-person services at 6 PM Saturday and 8 AM/10:45 AM on Sundays. Reasons we did not (and, as of this writing, still do not) offer a second in-person service in the main sanctuary on Sunday mornings was/is because of the need to clean the worship space a second time before people can safely gather there again. If you would like to volunteer your time to assist with this so that we are able to schedule a mid-morning service in the main sanctuary on a Sunday morning, please contact our Facilities Manager Garett Nigg ( ).
Masks are still required for all in-person activities (worship and otherwise) at RLC. This is in response to CDC guidelines and peer-reviewed research regarding the efficacy of masks, especially in conjunction with hand-washing and physical distancing, as a preventive measure against the spread of the coronavirus (see as representative, https://www.ncbi.nlm.nih.gov/pmc/articles/PMC7191274/).
Wednesday Night Workshop dinners have been cancelled for the rest of this calendar year. This is an activity beloved by the members of our church family, and so was not an easy decision. We regret that we simply cannot set up, prepare and serve food in a manner that is welcoming and safe for the members of our church community at this time.
Choir practices and rehearsals for vocal ensembles are not occurring as of this writing.
Indoors in-person group gatherings unrelated to worship (Bible classes or other groups) are limited to what we can accommodate with an increased cleaning regimen to maintain safe and disinfected spaces throughout our church property at all times.
But here's the good news about what IS available, as of this writing:
Live, in-person worship opportunities at 6 PM Saturday and 8/10:45 AM every week, with Holy Communion celebrated every Saturday and alternating Sundays (1st and 3rd Sunday at 8 AM and 2nd, 4th, and 5th Sundays at 10:45...as always, pre-packaged communion elements are available for pick up in the church office);
Two live stream services every week, at 8 and 10:45 AM, for those unable to worship in person, starting September 20;
Content from the 8 AM service will remain on the RLC YouTube channel for worshipers throughout the day and week on 2nd, 4th, and 5th Sundays…and content from the 10:45 AM live stream will stay up for RLC worshipers on 1st and 3rd Sundays;
A church-wide Adult Sunday School (Unshakable Hope) begins 9:30 AM, starting September 20;
Virtual Bible classes and fellowship opportunities (women's group, Tuesday morning Bible study group, middle and high school youth group, etc.) via Zoom, midweek;
Virtual classes for child/youth Sunday School and 7th-8th grade confirmation, already underway for 2020-2021;
Outdoor gatherings of various groups (Ignite, Moms Together, Men's Ministry Fellowship, etc.);
Musical ensembles that do not involve vocalizing or use of wind instruments (e.g., Heavenly Handbells) are already meeting for rehearsals and offering music in worship services;
Small vocal ensembles will be beginning rehearsals soon;
Groups or organizations wanting to meet and able to maintain other requirements for in-person gathering (facemasks, physical distancing) are invited to schedule their use of church facilities with the church office ( ).
All of this is merely a "snapshot," based on our present circumstances. While it is my goal to maintain consistency in our programming, this present snapshot will neither determine future church activities that will inevitably occur nor necessarily delimit them. I want to always assess what we are able to do with members of church leadership and to determine together what we are able to reasonably accommodate for the life of our church community as circumstances unfold. Though we long to open events more widely very soon, we also know the importance of proceeding in a manner with the safety and health of church members and staff in mind. Thank you for your patience, your understanding…and your flexibility in the months ahead.
Let me close with this encouragement to keep the conversation about a possible worship schedule time change discussed in the August Voter's Meeting in your prayers. There will be more to share on that topic in the weeks ahead. Please check the weekly announcements in our email distribution to stay up to date.
Let St. Paul's introduction to his epistle of friendship be our greeting to one another this week as we start a fresh study together of Philippians: "I thank my God in all my remembrance of you....because of your partnership in the gospel...And I am sure of this, that he who began a good work in [us] will bring it to completion at the day of Jesus Christ" (Philippians 1:3-4).
Shalom in Christ Jesus,
Pastor Jonathan

---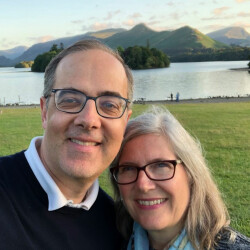 Pastor Jonathan Blanke grew up in Richmond, Virginia. He received his Bachelor's degree from College of William and Mary in Virginia and attended Concordia Seminary in St. Louis, Missouri, where he earned a Masters of Divinity degree and a Doctor of Philosophy degree in Biblical Studies, Book of John. He served as a Vicar at Messiah Lutheran Church in Richardson, Texas.
The Blanke family lived in Japan while he served as pastor and missionary to Okinawa Lutheran Church and taught Biblical Studies at Japan Lutheran College in Tokyo.
Pastor Jonathan lived in southern Maryland from January 2014 to November 2019 and was thankful to have served as the Sole Pastor at Trinity Lutheran Church in Lexington Park, Maryland.
He and his wife, Juli, have two grown children. In his free time, Jonathan likes to travel, "play around" on the piano, and enjoy the outdoors.
Click HERE to view a brief video from Pastor Jonathan.