Rev. Dr. Jonathan Blanke, Senior Pastor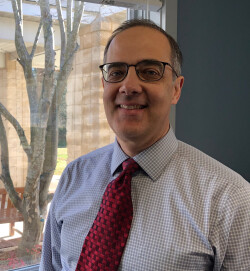 Pastor's Corner for May 28-June 3

Let It Flow
(John 7:37-39)
Ever stop and consider how multi-faceted the important language in the Bible truly is? Like a precious stone, you can hold each image used to talk about God up to the light, and turning it, see not one but many sparkles that enlighten and illumine. One facet of water in the Gospel of John is that it quenches thirst… think of Jesus with the Samaritan woman (John 4). Another is that it cleanses… consider Jesus washing His disciples' feet (John 13). But Jesus wants us to see yet another different facet of water on this Pentecost Sunday. Instead of speaking about water as something that cleanses and instead of using water only as an image of something that quenches thirst, Jesus illustrates the work of the Holy Spirit speaking about water as something that FLOWS. "'Whoever believes in me, as the Scripture has said, out of his heart will flow rivers of living water.' Now this he said about the Spirit." The Holy Spirit is not at work damming up the love of God in us, causing us to enjoy it all for ourselves. The Spirit is at work to make the love of God flow… in us and through us, to others. It isn't ours to stockpile. It isn't ours to ration.
This weekend we celebrate the gift of the Holy Spirit, POURED OUT upon the followers of Jesus in the early days of the Church and FLOWING THROUGH them as they testified (and as followers of Jesus continue to testify today) to the work of God as Creator, Savior, and Sanctifier. Just what God's living water looks like will depend a little bit on the unique personality and experiences of each and every child of God. But the gift of the Spirit that we share has one thing in common with each of us: it can't be kept inside! Let's say "yes" together to God for all that he has done for us in Jesus. Cleansed by the Spirit of God in Holy Baptism and drinking deeply from the wellspring of life that is ours in Christ Jesus… let's just let the work of the Spirit flow through us into a world of need!

Take a Look! The New ESV Bibles Are In
This Sunday we are pleased to make our newest pew Bibles available in all worship services. The English Standard Version is widely used throughout our church body today, and is a faithful translation of the original Hebrew, Aramaic, and Greek of the Scriptures. We have ordered a large print edition so that it is easy to read for a variety of worshippers. I invite you to pull out the Bible during worship services and practice looking up Bible verses the old-fashioned way, either for yourself or together with the members of your family! It's a great skill set to develop and will make accessing God's Word even easier for you and your children/grandchildren.
For those who still like the convenience of their devices (that includes this pastor), there are also a variety of apps you can use:
the YouVersion Bible App (free)
the BibleGateway App (free) and
the Dwell Bible Listening App (yearly subscription fee required)
Anyone interested in a free Bible is welcome to pick up one of the older NIV Bibles currently being held in boxes in the Fellowship Hall. Those not claimed after this weekend will be donated to CLI Prison Alliance.

RLC Voters' Meeting Sunday, June 11 at 12:30 PM
I look forward to seeing all RLC members at our upcoming semi-annual voter's meeting, on June 11. This will be an opportunity for us to give thanks to God for all of the good things God is doing at RLC… and to discuss and approve our upcoming budget for fiscal year 2023-2024. This year we also have special plans for families with small children, so that Mom and Dad can take part in the meeting (kids can get popsicles and enjoy activities on the outdoor playground with Children and Family Ministry Director Erika Hulse). While we have much to be grateful for, rising costs due to inflation and recent/future repair needs for our church building and schools are creating challenges for our finances, too. We want you to be aware of what is on the horizon so that we can better plan for our future together. Thank you in advance for making time for this important conversation together.

Save the Date: June 14 with Rev. Shauen Trump and Family
Members and friends of Resurrection Lutheran Church are invited to hear all about the good work God is doing in Africa! Save the date for time with LCMS missionary, Rev. Shauen Trump at 6:30 PM on June 14th. Rev. Trump, a former member of RLC, has been serving as a missionary in Africa for fifteen years and as the Regional Director for LCMS mission efforts in Africa since 2020. He is visiting us with his family: his wife Krista and their children Josiah, Elijah, Isaiah, Jeremiah and Esther. Our gathering will be at the home of RLC members Jeff and Cheryl Fike (207 S. Mason Street, Apex, NC 27502-1918).
Food and drinks will be on hand for those coming directly from the workplace. There will also be ample parking, including space for handicapped or disabled participants.
Those attending are asked to RSVP at the following link: rlcary.org/about-us/mission-outreach/rev-shauen-trump-and-family-visit

I look forward to seeing you there!
Pastor Jonathan

Church office will be closed on Monday, May 29 in observance of Memorial Day.
---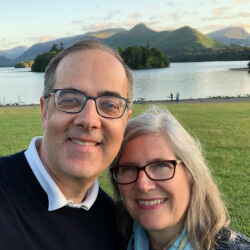 Pastor Jonathan Blanke grew up in Richmond, Virginia. He received his Bachelor's degree from College of William and Mary in Virginia and attended Concordia Seminary in St. Louis, Missouri, where he earned a Masters of Divinity degree and a Doctor of Philosophy degree in Biblical Studies, Book of John. He served as a Vicar at Messiah Lutheran Church in Richardson, Texas.
The Blanke family lived in Japan while he served as pastor and missionary to Okinawa Lutheran Church and taught Biblical Studies at Japan Lutheran College in Tokyo.
Pastor Jonathan lived in southern Maryland from January 2014 to November 2019 and was thankful to have served as the Sole Pastor at Trinity Lutheran Church in Lexington Park, Maryland.
He and his wife, Juli, have two grown children. In his free time, Jonathan likes to travel, "play around" on the piano, and enjoy the outdoors.
Click HERE to view a brief video from Pastor Jonathan.