Rev. Dr. Jonathan Blanke, Senior Pastor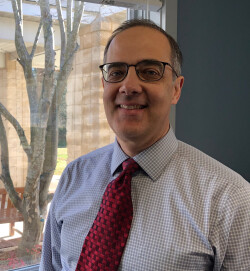 Pastor's Corner for May 15-21
Life without the Walls
(Acts 11:1-18; Ephesians 2:11-22)
I remember visiting Caesarea Maritima in Israel for the first time five years ago and wondering what it must have been like to have been a humble Israeli fisherman like St. Peter entering this imposing city. Peter was sent by God to Caesarea to introduce Cornelius, a centurion from the occupying "enemy's" army, to Jesus. The strongest impression as I approached the ruins of this ancient place was the high wall with details any citizen of the Roman empire would have loved (see my photo, above). Cornelius would be one of the first people inside those walls to hear the Gospel Good News about Jesus and believe. Faith, given by the power of the Holy Spirit, was certainly no small thing for Cornelius. Being sent by God with a message of life to share (also by the power of the Holy Spirit) would have been no small thing for Peter, either!
In the book I've been reading with many of you called The Great Sending, Pastor Keith Kohlmeier writes not only about Cornelius's conversion. He talks about Peter's "conversion," too. "[St. Peter] is turned from a man who viewed [people like Cornelius] as common and unclean to a man who is willing to mingle with them." The crucified and resurrected Christ sent Peter and the first disciples to go and testify to the God who saves so that all the world might hear that message and live. You and I are sent, too. As I write this article from the Southeastern District Convention in Richmond, VA, I'm listening to our church leaders emphasize the "sent-ness" of the church. LCMS Florida-Georgia District President Greg Walton, in the opening devotion of our gathering on Thursday, referenced the multitude of saints in heaven from every tribe, nation, language, and people. They stand before the throne of God and the Lamb with no walls to divide them. Yet as different as they all are from one another, he reminded us, they all have one thing in common: someone had to have told each one of them about Jesus!
Aren't all of us who are on the receiving end of another person's testimony about Jesus to do likewise? How might the world look if each of us did our part to bring about the "barrier-free" world that Jesus' sending of Peter to Cornelius anticipated? We are not alone. The crucified and risen Christ, the One first sent by the Father (John 20:21), goes with us.
Alleluia, Christ is risen!

Rev. Dr. William Harmon Elected New President of the LCMS Southeastern District
As we give praise and thanksgiving to God for ten years of faithful service for President John Denninger and wife Connie, we also offer up our congratulations to Pastor Bill Harmon and wife Gayle. Bill has been elected to be the new president of the Southeastern District. We keep Bill and all of our newly elected district leaders in our prayers as they begin this new chapter of service together.

Requesting a Fulltime Director of Christian Education/Family Life at RLC
I wanted to let all of you know I've asked the Church Council to place the salary and benefits of a full-time DCE/DFL into the new budget for fiscal 2022-2023. You might be wondering: Why this new position? Why now?
Several part-time staff serving in Children and Family Ministry have either resigned or retired over the course of the last year and a half. The vacancies resulting from these openings make it financially feasible to consider hiring one full-time person.
Directors of Christian Education and/or Family Life Ministry in the LCMS are called (not contracted) as pastors and Lutheran school teachers are called. Rather than being ordained for Word and Sacrament ministry as pastors are, they are commissioned lay ministers of the church. They have a measure of training regarding LCMS doctrine and are qualified to (a) partner with pastors in overseeing religious education in the church and (b) partner with educators in reaching a particular age group with the gospel of Jesus Christ.
A full-time Director of Christian Education or Family Life at RLC would…
• Join the ministerial team in overseeing strategic goals of ministry at RLC
• Work primarily with children between the ages of infancy and 8th grade AND their parents/families
• Oversee RLS and RLP chapels, ensuring that chapel content is engaging/picking up on what the children are learning in the classroom and reinforcing it in the context of worship
• Schedule events for children and Middle School youth intended to create friendships/community between RLS/RLP families and families not associated with our schools who worship at RLC
• Work with the pastors to see that milestone events at RLC (especially first communion and confirmation) are properly planned for and executed
• Oversee the children's Sunday School program and VBS
• Oversee children-specific worship in regular weekend worship services (e.g., Children's Messages and Children's Church)
Assuming this recommendation is approved by the congregation, we would move forward to form a call committee for the DCE/DFL sometime this summer. I invite you to bring along your questions on the topic when you attend the June Voters' Meeting… or reach out to me about them at any time. Many thanks!

In peace and joy,
Pastor Jonathan
---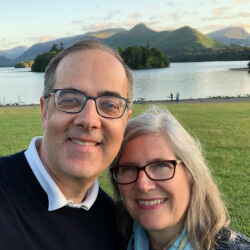 Pastor Jonathan Blanke grew up in Richmond, Virginia. He received his Bachelor's degree from College of William and Mary in Virginia and attended Concordia Seminary in St. Louis, Missouri, where he earned a Masters of Divinity degree and a Doctor of Philosophy degree in Biblical Studies, Book of John. He served as a Vicar at Messiah Lutheran Church in Richardson, Texas.
The Blanke family lived in Japan while he served as pastor and missionary to Okinawa Lutheran Church and taught Biblical Studies at Japan Lutheran College in Tokyo.
Pastor Jonathan lived in southern Maryland from January 2014 to November 2019 and was thankful to have served as the Sole Pastor at Trinity Lutheran Church in Lexington Park, Maryland.
He and his wife, Juli, have two grown children. In his free time, Jonathan likes to travel, "play around" on the piano, and enjoy the outdoors.
Click HERE to view a brief video from Pastor Jonathan.