Rev. Dr. Jonathan Blanke, Senior Pastor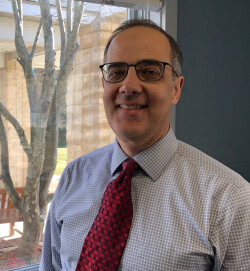 March 27, 2020
Dear Resurrection Lutheran Church brothers and sisters,
Greetings in the name of our Lord of the cross, Jesus Christ! As we weather the many unexpected twists and turns of life, especially those in these busy weeks that impact our worship life as we count down to Holy Week and Easter, I once again call to mind the verse I mentioned a few weeks ago as our "theme" verse for these challenging days: "[Jesus said:] 'Behold, the hour is coming, indeed it has come, when you will be scattered, each to his own home, and will leave me alone. Yet I am not alone, for the Father is with me. I have said these things to you, that in me you may have peace. In the world you will have tribulation. But take heart; I have overcome the world'" (John 16:32-33). Though we, like the first disciples, are good at seeing the world's trouble, in Christ we do not give in to fear and anxiety but live...in the confident hope of our final victory!
By now you have no doubt heard about the stay-at-home order issued by Wake County yesterday, March 26, that is to be in effect until April 17. As an organization that is "subject to the governing authorities" (Rom. 13:1) and desiring to do all that we can possibly do to flatten the curve and be good neighbors to the people of our area, I have consulted with your leadership team at Resurrection and made the following decisions (in effect until April 17, at the earliest):
1) All people, whether paid staff, volunteers, or church members 65 years of age and older will be asked to refrain from being on the church premises;
2) All church staff that are able to work from home will do so;
3) Church staff unable to work from home for the most basic of church maintenance tasks will be in the office only on Mondays, Wednesdays, and Fridays from 9 AM to 3 PM. This will also allow for an even more thorough sanitation of surfaces on Monday and Friday afternoons that are still being used in certain limited portions of the building;
4) Paid and volunteer staff as well as small groups within the church desiring to meet or do Bible study are encouraged to contact Margaret Hyatt in the church office and set up meetings using our church's new video conference platform (Zoom);
5) The adjusted date of my pastor's Sabbath will be Saturdays, not Fridays; I intend to maintain a presence at church during regular church hours as much as I can.
Here are the most difficult words for this pastor to write: We will not be able to worship together in person as we are accustomed to doing during Holy Week or for Easter Sunday.
Nevertheless, your church staff are planning for ways that we can encourage you to enjoy a meaningful day of Holy Week and Easter worship. Easter Sunday 2020 is more than just a day on the calendar! It is, rather, a way of life that perhaps God is teaching us to enjoy and live out in unfamiliar (and yet, therefore, more memorable and unexpectedly meaningful) ways this year.
If you need care of any kind, please do not hesitate to call the church office and leave a voicemail for me. You may also leave a message for us at our church's Facebook Page (@ResurrectionLutheranCary). I will check for messages and email on Tuesdays and Thursdays to insure that I don't miss anything. Don't forget to always look for church announcements on our Facebook page, website, and in your email should any status change.
We joyfully await another day of "resurrection": the day we will once again gather in person and receive the gifts of God together!
Shalom in Christ Jesus,
Pastor Jonathan
---

Thursday, March 19, 2020
Tuesday, March 17, 2020
---

Monday, March 16, 2020
Dear friends and family of Resurrection,

Greetings in the name of our loving Savior. Resurrection Lutheran Church Staff met this afternoon to discuss plans for the next several weeks. As this concerns our congregation's worship life, I wanted to be sure to get word to you as soon as possible.

Here is what will be different, moving forward:
With the exception of Meals-on-Wheels-related activity, all outside group activities on the church property have been discontinued for the foreseeable future.

As of today (Monday, March 16) our church will temporarily discontinue all "in person" worship services at our church location. (Funeral/memorial services excepted.) This is in response to CDC recommendations and that gatherings of 50 or more be discontinued or cancelled. We will monitor our community status in about two weeks and update you with any changes at that time.

Midweek Lenten services and weekend worship services will be either live streamed or released for viewing for at least the next two weeks. You may also find other live streamed church content available online through our Southeastern District office at https://se.lcms.org/live-streaming-congregations/.

We are encouraging church staff who are able to do so to work from home, but will maintain regular church office hours 9 AM to 3 PM, Monday through Friday.

We will be "checking in" once by phone with all older members of our church community over the next few weeks and more regularly with home or institution-bound friends/members. As we care for one another during this time, please check in with each other for prayer and encouragement.

All on-site, non-worship church activities will be temporarily cancelled. For questions regarding off-site activities, please contact the activity leader or call the church office. (The men's retreat for this weekend will be a service-only event.)
Here is what will stay the same:
The content of our worship: The music, Scripture Readings, liturgy and messages from our regular mid-week Lenten services and weekend worship services will still be available to you in the electronically available format mentioned above. Specific instructions for viewing this content will be available on our web site by this time tomorrow.

Prayers on your behalf: Please continue to use our church website to submit prayer requests at
http://www.rlcary.org/ministries/prayer-ministry/ and feel free to contact the church office with other prayer concerns.

The opportunity to "gather," albeit electronically: While it will not be possible to gather "in person," we hope to make an easy-to-use videoconferencing platform available that will allow some small groups, Bible studies, and church meetings to continue. More about that in the next couple of days.

The forgiveness of sins and tangible reception of Jesus Himself in the Lord's Supper: Holy Communion will always be available to anyone who desires it. Please call the church office (919) 851-7248 if you would like to schedule a time for me or a member of our Chaplain Care Circle to visit you.

An opportunity to meet the pastor at church or in your home: I will maintain a presence in my office at church and will announce videoconferencing "office hours" in the days ahead. If you request a visit or desire to meet up with me during regular hours, please contact the church office.

Our service to our community which requires your financial support: Please know that when worship services stop our offering income decreases. We are grateful for all who are able to maintain their financial contributions to our congregation! Feel free to mail your donations, download and connect through the "give+" app on your smartphone or other device, or donate through our church website at http://www.rlcary.org/ministries/online-giving/

Though our days change and it is impossible to know what tomorrow will bring, we give thanks that our God is "the same yesterday, today, and forever" (Hebrews 13:8).

Shalom in Jesus,
Pastor Jonathan
---

Friday, March 13
Dear Resurrection friends and family,

Greetings in the name of our loving Savior, who is always there to calm our storms because He is "with [us] always, even to the end of the age" (Matthew 28:20)!

Yesterday (Thursday, March 12) afternoon the North Carolina Department of Health and Human Services issued an updated directive for those who are planning community events such as church services in our area. In addition to many of their prior instructions that I published in a letter to the congregation earlier this week, their newest recommendation yesterday was to limit gatherings to no more than 100 people and to generally prevent those who were gathering from coming into close contact (6 feet or less) with one another.

As a result, in consultation with staff and members of leadership at Resurrection, I have decided to go ahead with our three regularly scheduled worship services for March 14-15 in the main sanctuary, but to cancel the 10:45 worship service in the Family Life Center and all Sunday School classes (children, youth, and adult) for Sunday, March 15. Holy Communion will be offered in our 6 PM Saturday evening and 8 AM services and will be distributed in a continuous line. Our reception of new members scheduled for Sunday, March 15 will be rescheduled to a later time. Two Saturday events, the Men's Breakfast and Brass Bonanza scheduled for March 14, will be either cancelled or rescheduled.

Please know that I understand these to be important events for the life of our congregation. I do not do this easily or lightly. However, we must look to those with knowledge of the virus and its likely impacts and see that we do not create unnecessary risks to the members of our community.

I have said it before, but it bears repeating: If you have anxiety for yourself or for others in your family for whom attending this weekend prevents a challenge, please do not hesitate to stay at home. We love you and want our worship with you to be the wholesome and uplifting experience that it was intended to be!

Please continue to check our church web site (rlcary.org) your RCB email, and our church Facebook page for updated information.

Shalom in Jesus,
Pastor Jonathan


---

Tuesday, March 10
Dear friends and family of Resurrection Lutheran Church,

Greetings to you in the peace of our reconciling and loving Savior, Jesus Christ!

On Monday, March 9, it was my privilege to meet together with several members of your leadership team here at Resurrection to discuss a matter that I suspect is on the hearts and minds of many: What are we doing/will we be doing at Resurrection to create a safe and welcoming space for all the people we see throughout the week, but especially for worship during Saturday evening and Sunday morning services? As I've said before, we are tasked not only with the spiritual care of our people, but with the solemn responsibility of doing everything in our power to insure the care of the whole person...not only here within our walls but wherever and however God gives us an opportunity to do that.

Before I answer the question about what we're doing/will be doing, permit me first to encourage you and those you love in the Spirit of our gracious God who knows what we need even before we ask it from Him (Matthew 6:8)!
Please know that if you have a serious underlying health condition, a compromised immune system, or anxiety about gathering in places where you may be especially susceptible to infection, you should stay home. If we don't see you for a while we might call just to "check in," but this is out of care for your welfare and not because we want you to feel "guilty" about not being in church!
If you are presenting with cold symptoms of any kind, we encourage you to stay home.
When coming to church, please avail yourself of the hand sanitizer stations at every entrance. The best thing you can do for your own health (wherever you might be) is to wash your hands frequently and touch your face as little as possible.
If you have any concerns regarding how we are worshiping or about your own well-being while at church, please reach out to me ( ) or an usher.
Please always refer to reliable information obtained by the CDC from their website (https://www.cdc.gov/coronavirus/2019-ncov/index.html) rather than rumor or hearsay.
Join us in praying for those whose lives have been directly impacted by the virus (see below). Find opportunities in the midst of these events to care for yourself even as God may lead you to help or serve others.
Check the church web site and/or Facebook page for updates regarding scheduling of specific events.
Here is what we are doing or will be doing to promote health and wholeness in our church building:

1) We are praying...praying for those whose lives have already been impacted by the new coronavirus (COVID-19) worldwide, for those serving and attending to the needs of those impacted by the virus (including medical professionals, researchers, political leaders and others), and for ourselves, that we might live according to a humble spirit of wisdom that seeks to serve and maintain our own health in the midst of these events.

2) We have already implemented alternative greetings to the passing of the peace ("holy wave," etc.) that do not require hand-to-hand contact and have instructed our greeters to implement similar greetings at the door.

3) We have already discontinued passing of the offering plate in favor of receiving offerings/donations at the door, as worshipers leave.

4) We have already placed and begun using hand sanitizer dispensers in both worship spaces for those distributing the host during Holy Communion.

5) We have already increased our cleaning regimen for door knobs, tops of pews, and other frequently touched locations throughout the church.

6) We will (beginning Sunday, March 15) publish the entire liturgy in the bulletin so that hymnals need not be held.

7) We will (beginning Sunday, March 15) distribute the Lord's Supper by continuous rotation (as is currently done in the Family Life Center) to obviate the need for kneeling at the communion rail.

8) We will (beginning Sunday, March 15) set aside use of the fellowship pads in favor of a card to be submitted by guests and anyone else who chooses to do so.

9) We are constantly monitoring the situation and will make announcements as these become necessary.

I know I don't even have to ask you to give thanks with me that our heavenly Father has given us all that we have...including "body and soul, eyes, ears, and all my members...and still takes care of them" (Small Catechism, First Article). Though we can never know what tomorrow may bring, we live each day in the quiet confidence that we are in God's hands. There is no other place we'd rather be!

In the abiding peace of our God,
Pastor Jonathan Blanke
---
The Gospel of John
During the first block of Winter Christian Education classes for adults, Pastor Jonathan led a class on The Gospel of John. For more information regarding this class, go to The Gospel of John page.
---
Installation of Rev. Dr. Jonathan Blanke
---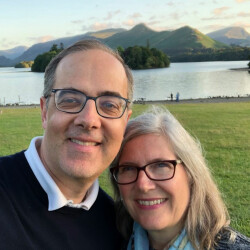 Pastor Jonathan Blanke grew up in Richmond, Virginia. He received his Bachelor's degree from College of William and Mary in Virginia and attended Concordia Seminary in St. Louis, Missouri, where he earned a Masters of Divinity degree and a Doctor of Philosophy degree in Biblical Studies, Book of John. He served as a Vicar at Messiah Lutheran Church in Richardson, Texas.
The Blanke family lived in Japan while he served as pastor and missionary to Okinawa Lutheran Church and taught Biblical Studies at Japan Lutheran College in Tokyo.
Pastor Jonathan lived in southern Maryland from January 2014 to November 2019 and was thankful to have served as the Sole Pastor at Trinity Lutheran Church in Lexington Park, Maryland.
He and his wife, Juli, have two grown children. In his free time, Jonathan likes to travel, "play around" on the piano, and enjoy the outdoors.
Click HERE to view a brief video from Pastor Jonathan.