Rev. Dr. Jonathan Blanke, Senior Pastor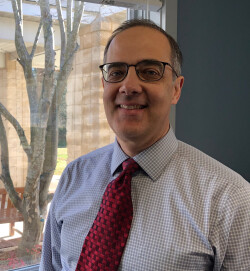 "Helped by God"
(Luke 16:19-31)
In today's Gospel reading Jesus tells a story about one poor man and one rich man. They have the "usual" lives on this side of eternity for the social standing each represents. The rich man lives in luxury while the poor man, who is sick and homeless, longs to eat any scraps from the rich man's table... but can't. In the hereafter, outcomes for the poor man and the rich man are reversed. The poor man goes to heaven while the rich man languishes in hell.
What I've noticed about Jesus' parable is that while it does have something to say about poverty and riches, illness and health, it also says something about human relationships. Though Jesus' story depicts both a rich man and a poor man the guy with the name is the POOR man, Lazarus. We expect that having enough money that a person could eat, sleep, and live securely would bring with it a name, or at least a permanent address. In Jesus' story it's the poor and wound-infested man, the one who (for whatever reason) was overlooked by the man of means throughout both their earthly lives whom we come to know by name. Could there be a message for us in that?
Years ago, I volunteered at a Food Bank that operated under the premise that all guests coming for help would be treated with the respect and dignity any child of God deserved. You might think such treatment would be automatic. But you'd be surprised by the number of people who verbally thanked the Food Bank volunteers for something as simple as responding "Yes, sir" or "No ma'am." What really made a difference for those who came to the Food Bank was when the volunteers got to know them by name and friendships were formed.
The poor man in Jesus' story has a name. The name "Lazarus" in English comes from the Latin form of the name which originates in Hebrew: "El-azar." It means "helped by God." We cannot conclude from Jesus' story that the way to heaven is to be financially poor… any more than we can assume that only the rich are selfish and uncaring. The message for both rich and poor and everyone in-between is that we and others are people "helped by God." God loves us unconditionally and with no strings attached. In Christ Jesus we are people with sins forgiven. God knows each of us by name. He gives us, according to our prayer, daily bread.
Truly, you don't have to be "rich" to be neighborly. With hearts made generous by God's mercy, let's share out of our abundance again this week!

Support for Families During 11 AM Worship Hour
Many thanks to Diana Rogers for volunteering to serve as RLC nursery attendant during the 11 AM worship hour every first Sunday of the month, starting in October. Diana will be providing this service to our very youngest worshippers —children 4-years old and younger— in the nursery (Room 115, between the church offices and the preschool wing). Children's Ministry Director Erika Hulse will prepare Children's Church for the 11 AM services on October 2, 9, and 16.

RLC children are always, always welcome to be in our worship spaces with their families while worship services are underway. However, we invite you to avail yourself of these options if they are right for your family. Also, if you would like to volunteer to help either as a nursery volunteer or a Children's Church facilitator, please reach out to Erika at .

Peace and joy in Him,
Pastor Jonathan
---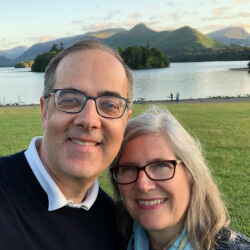 Pastor Jonathan Blanke grew up in Richmond, Virginia. He received his Bachelor's degree from College of William and Mary in Virginia and attended Concordia Seminary in St. Louis, Missouri, where he earned a Masters of Divinity degree and a Doctor of Philosophy degree in Biblical Studies, Book of John. He served as a Vicar at Messiah Lutheran Church in Richardson, Texas.
The Blanke family lived in Japan while he served as pastor and missionary to Okinawa Lutheran Church and taught Biblical Studies at Japan Lutheran College in Tokyo.
Pastor Jonathan lived in southern Maryland from January 2014 to November 2019 and was thankful to have served as the Sole Pastor at Trinity Lutheran Church in Lexington Park, Maryland.
He and his wife, Juli, have two grown children. In his free time, Jonathan likes to travel, "play around" on the piano, and enjoy the outdoors.
Click HERE to view a brief video from Pastor Jonathan.