Rev. Dr. Jonathan Blanke, Senior Pastor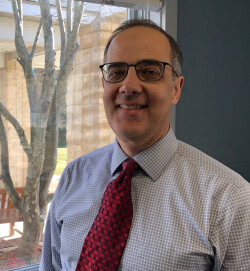 Pastor's Corner for Week of June 20-26
Dear brothers and sisters in Christ,
Fear is our focus for this Sunday. How many troubles in the world can arise... in one form or another... as the result of human fear?
On the one hand, you don't need me to tell you that fear (or, at the very least, nervousness and caution in the face of serious circumstances) is, in the proper dose, a necessary and helpful thing. Without it, student drivers would be in all kinds of trouble and sky-divers might not make it safely back to earth. I remember once upon a time a wise and seasoned pastor telling us new recruits to the preaching profession that a little nervousness prior to proclaiming the Word of God was a good and godly thing! On the other hand, fear spinning out of control can cause people to freeze, feud, and fault others. The disciples on the Sea of Galilee in our text this week (Mark 4:35-41) found themselves out on open water in the middle of a storm-- helpless. Fear in such circumstances was to be expected. The problem began when everyone started taking their fears out on Jesus! Instead of asking the sleeping Jesus for help, as we might expect, their first words to Jesus were the snarky "Teacher, do you not care that we are perishing?" Fear frustrates and causes ruptures between people... sometimes between members of God's family. At other times, our fears may even cause us to wonder what God is up to. If the Psalmist was capable of that kind of fear (cf. Psalm 44:23) so are we.
Thank heaven that God walks with us despite our fears. Thank God that God's dealings with us are not in response to ours with Him! Our text today is proof that in a time of crisis you can assume the worst about Jesus and still receive God's mercy and grace. In the end, with the ever-present Jesus along for the ride and the sin of inadequate faith in times of trouble forgiven, you might find that your anxious, paralyzing fear is turned to a completely different kind of fear, which isn't really fear at all: reverent fear… "awe" is a better word… amazement, once the storm has passed, at what the almighty God of the universe can do. Your faith journey and mine are made stronger in the process.
Here is the newest of the new information to send your way this week....
The following guidelines for worship are now in place:

Please make a note of the monthly schedule for Holy Communion:
Every Saturday at 6 PM
Every first and third Sunday, at 8 AM
Every second and fourth Sunday, at 9:30 AM
Every second, fourth, and fifth Sunday, at 11 AM.

Name tags at RLC are back!
RLC members who are worshipping in person are invited to arrive at church a little early and retrieve their nametag from their member's mailbox this weekend. For anyone without a member's mailbox or preferring the stick-on variety, disposable stick-on tags will also be available at the door to the main sanctuary and Family Life Center. Let's do what we can to call one another by name and welcome each other to our Father's house on this Father's Day weekend!

Open for business:
The Resurrection office continues operation according to its pre-pandemic schedule: Monday-Friday, 9 AM to 3 PM. In the church and office wing, use of masks is completely optional for those who are fully vaccinated. It has been great to see many of you stopping by to pick up mail and just say "hi"! It has been even greater gathering with some of you in person around God's Word during weekly Bible study events. If you have a group or activity to schedule in the building, please contact the church office.

Vicar Alan Shaw, RLC's Newest Stephen Leader:
Join us for a very special celebration this weekend as Vicar Alan Shaw is commissioned as Resurrection's newest Stephen Ministry Leader. (Stephen Ministry has been active at Resurrection Lutheran Church since 1999. It provides high-quality, one-to-one, Christ-centered care to people in the congregation and the community who are experiencing life difficulties.)
Though Vicar Shaw has already been serving at RLC as a Stephen Minister (lay Christian caregiver), as a Stephen Ministry Leader he will be able to use his gifts for leadership, vision, wisdom, administration, organization, discernment, and teaching to select and equip those who will be Stephen Ministers in our congregation. Vicar Shaw recently completed Stephen Ministry Leader bridge training (in addition to all his other studies and work projects!) and we give thanks to God for his enhanced role and service in this area among us. Though I will continue to monitor the need for pastoral care in collaboration with our Stephen Ministers, Vicar Shaw will be our pastoral contact for the Stephen Ministry team, moving forward. Congratulations, Vicar Alan!

Service and mission to our community and world:
You may remember two weeks ago I started including articles written by RLC member Ann Johnson, on behalf of CLI Prison Alliance (an organization bringing hope to prisoners around the world through the Gospel of Christ). We are looking for folks at RLC who might be interested in joining the Johnsons in this important ministry. Below is Ann's third installment to get the word out about CLI. Enjoy!
This week we focus on three types of individuals who know the benefits of donating Bibles, Christian books, CDs and DVDs to CLI Prison Alliance.
- William, a clerk for the MacDougall Correctional Institution's chaplain in Ridgeville, SC writes, "I want to thank you for the shipment of Christian books you sent. Your ministry is greatly appreciated, and your books are being put to good use. The chapel's library is open to the entire yard and is a good resource for Christians of all levels of maturity. I personally have used many books you sent. May the Lord richly bless your ministry."
- Josh, an inmate in Cullman, AL says, "In order to obtain books to read, they must be mailed in. That's where our relationship started -- yours and mine. There has always been plenty of 'garbage' to read: Stephen King, Richard Damon, and stuff like that. None of it interests me. I began to pray that God would send us Christian books, and my prayers were answered. It was amazing! We began receiving Christian books and Bibles. I shared them with other inmates. We went through the first box quickly, and then the second box came. It had books everyone wanted -- Karen Kingsbury, Amish novels, and more. How thankful I am for your faithfulness and your willingness to serve someone in prison like me."
- J. Mahaffey has been donating Christian materials to CLI for many years and has sent monetary donations to help cover the costs of shipping. "I had some religious books to donate and found an article in a magazine about your organization; so the journey began. I've enjoyed finding great books and Bibles on sale at local Christian bookstores knowing inmates would be blessed by them. It has been a blessing to me to see CLI grow in the number of inmates who have made decisions to accept Christ as their Savior through the books, Bible study lessons and Gospel tracts. Several years ago when in Raleigh, I purposely visited the CLI office. It was a joy to see where my donations of books and money were going and what great work the staff and volunteers are doing."
You will find the CLI book donation container inside the wood cabinet near the member mailboxes in the church hallway. Monetary donations to help cover shipping costs may be left in the church office.
++++
On this Father's Day, let's give thanks for the gift of our heavenly Father, who in the person of the Son of God, Jesus Christ, says to each and every one of us: "You are mine…do not be afraid!" Though we will always dwell in some measure of anxious fear here below, what blessing to know that our God, worthy of our reverent fear and devotion is with us in the midst of every storm. We are in His capable hands!
In Him,
Pastor Jonathan
---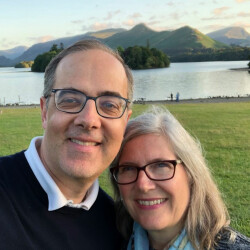 Pastor Jonathan Blanke grew up in Richmond, Virginia. He received his Bachelor's degree from College of William and Mary in Virginia and attended Concordia Seminary in St. Louis, Missouri, where he earned a Masters of Divinity degree and a Doctor of Philosophy degree in Biblical Studies, Book of John. He served as a Vicar at Messiah Lutheran Church in Richardson, Texas.
The Blanke family lived in Japan while he served as pastor and missionary to Okinawa Lutheran Church and taught Biblical Studies at Japan Lutheran College in Tokyo.
Pastor Jonathan lived in southern Maryland from January 2014 to November 2019 and was thankful to have served as the Sole Pastor at Trinity Lutheran Church in Lexington Park, Maryland.
He and his wife, Juli, have two grown children. In his free time, Jonathan likes to travel, "play around" on the piano, and enjoy the outdoors.
Click HERE to view a brief video from Pastor Jonathan.