The phrase "house of prayer" is found in Isaiah, Matthew, Mark, and Luke. These references refer to the temple in Jerusalem. However, today's "house of prayer" is the "whole number of believers in Christ".


Prayer at RLC
Resurrection Prayer Community
During this time of uncertainty, we have a beautiful opportunity before us to connect with one another in the Resurrection Prayer Community. I invite you to be a part of this online gathering of the heart. This group -- birthed from our 2019 Transition Prayer Team -- has been created to hold our church family in prayer and to comfort and encourage one another in the weeks, perhaps months, ahead as the virus keeps us from physically gathering together in study, worship, and prayer. Members can interact with one another, adding prayers, devotional thoughts and words of encouragement at any time during the week.
If you would like to be a part of our Prayer Community, login to RCB, search for Prayer Community in Groups, and click Join.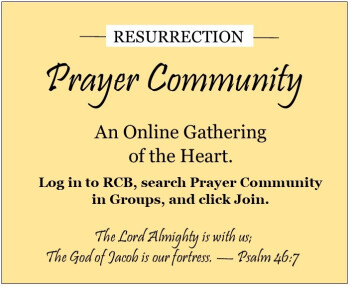 Weekly Worship Prayer Requests
For Sanctuary Worship (6:00 pm, 8:00 am, 10:30 am), you can make prayer requests on the prayer sheet in the Narthex on the small, oval-shaped table.
For Contemporary Worship (10:45 am), you can write down prayer requests on the prayer sheet located on the Information Table in front of gym doors.
Prayer Chain
You can join to receive prayer requests and pray for others. Email the church office at and ask to be placed on the prayer distribution list.
Prayer Requests
Please use this form to submit your prayer request. These requests are then emailed to individuals who have subscribed to the prayer distribution list.

Portals of Prayer
Daily devotion booklets available in the Narthex.


Prayer Ministry Do's
Thank you for being a part of the prayer ministry. You are an important link in the prayer life of Resurrection Lutheran Church! One of the most important aspects of the prayer ministry is confidentiality. Confidentiality is that element that can "make or break" the prayer chain. The following list of "Prayer Ministry Do's" was made with this in mind.
Do ask the Holy Spirit to guide you in your prayers.
Do pray for requests that you receive.
Do be faithful in keeping the prayer chain "alive" and informed.
Do respect the privacy of the individual by keeping his or her prayer request within the prayer chain.
Do be sensitive to the individuals need for anonymity.
Do make sure that you have permission to place an individual on the prayer chain, and use his or her name.

May the Lord bless you as you serve Him through your prayers!