Watch our Worship Services here!
To view in full screen, click on the "box" in the bottom right-hand corner.
You can also view all online services on the church's YouTube channel.
Sunday, October 1 ~ Eighteenth Sunday After Pentecost
There will be no 11:00 am praise worship live stream as we will be worshiping in the park!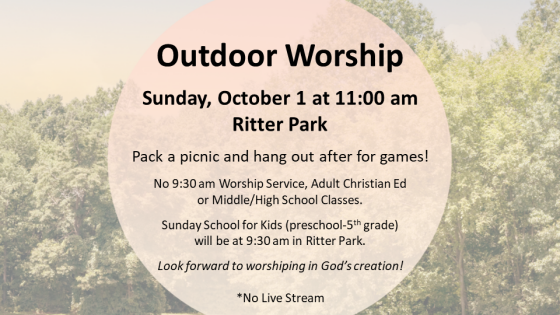 Sunday, September 24 ~ Seventeenth Sunday After Pentecost
Sunday, September 17 ~ Sixteenth Sunday After Pentecost
Sunday, September 10 ~ Fifteenth Sunday After Pentecost
Wednesday, September 6 ~ Resurrection Lutheran School Chapel
Sunday, September 3 ~ Fourteenth Sunday After Pentecost
More Online Worship Services on our YouTube channel.
We are grateful for all who are able to maintain their financial contributions to our congregation!
There are three ways to make your offering:
Mail to Resurrection Lutheran Church, 100 Lochmere Drive West, Cary, NC 27518.


Donate through our website at rlcary.org/ministries/online-giving.


There's an APP for that! Connect through the Vanco Mobile app on your smartphone or other device, and search for Resurrection Lutheran Church.