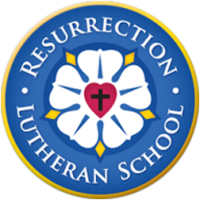 Greetings from Resurrection Lutheran School!
Resurrection Lutheran School offers a safe, nurturing, and academically rich educational experience in a Christ-centered environment where the groundwork is laid for a lifetime of learning. Students are encouraged to work towards independence at an early age and given the tools to take responsibility for their own study. Our commitment to Christian values, dedicated teachers, and parent support serve to motivate children to perform at their highest potential. Students are prepared to make "honors level" decisions in high school!
There are many opportunities for you to become involved in your child's academic life in order to enhance and enrich their educational experience. Our close-knit community fosters strong personal relationships that will last a lifetime. Take a moment and explore our website to learn why so many families have found a home at RLS!
For more information, please visit our website at rlscary.org or call 919-851-7271. Check out our Facebook page - Resurrection Lutheran School.
Mission: Resurrection Lutheran School is committed to educating generations of children in the training and instruction of the Lord. Because of this commitment, we will provide a Lutheran educational experience that is Christ-centered, as well as academically focused for children in junior kindergarten through eighth grade.

Therefore encourage one another and build each other up,
just as in fact you are doing.
1 Thessalonians 5:11