All on-site church activities have been temporarily cancelled.
For questions regarding off-site and online activities,
please contact the activity leader or the church office
( , 919-851-7248).

Our Children and Family Ministry is all about:
bringing our kids closer to Jesus
providing a safe place for children to gather
encouraging children to bring a friend
building discipleship skills
offering educational opportunities for families
Sunday Morning
Nursery for Infants and Toddlers
Nursery is available in Room 115 of the Preschool wing. Please sign your child in with the adult nursery attendant.
Due to children with food allergies, no food or snacks will be allowed in the nursery on Sundays.


Worshipping with Small Children
All quiet activity bags, books, and shareable items in the Narthex and Family Life Center have been removed for the foreseeable future. Feel free to bring items from home, if your child needs a quiet activity during worship.
Children are welcome in all of our worship services! God loves the little children, and so do we! If there is ever a time that you feel your child needs a break, please feel free to use the nursery, Room 115 of the Preschool wing, during Sanctuary services and Room 151 in the Family Life Center during the Praise service.


Children's Message
Our focus is to connect the theme and message of the day in a simpler way that children can understand and relate to on their level. Please don't feel your child is too young to be brought up to be a part of the message. Also, encourage your "older" children (through 5th grade) to participate. It is helpful to have children of various ages attend together. We hope to see more children participating in the Children's Message during worship.


Kids Connection Hour
Join us for Sunday School from 9:15 to 10:15 am! Classes are available for children 3 years old through 5th grade and held September through May. Nursery is also available.
RM 123 - 3 and 4 year olds
RM 131 - Kindergarten-2nd Grades
RM 133 - 3rd and 4th Grades
RM 135 - 5th and 6th Grades


I hope this finds everyone staying healthy and safe! This is a good time for us all to focus on family and our faith. Just because the church doors are shut, our faith is not. If you need any assistance in Children and Family Ministry, please email us.
Click for This Week's Sunday School Lesson
Here are some fun non-traditional ideas to keep your children connected to their faith and take ownership of their own discipleship. This is also a great way to make memories and new traditions with your family and children.
Let the kids read the Bible to you. Just open the Bible and read where you are. Who knows, you may find a new favorite Bible verse this way. Then have the kids learn a verse and see if they can remember it the next day. If they can, maybe they can have an extra treat or a little extra free time.
Movie Night - We are all watching tv, Hulu, Amazon Prime, Netflix, etc., pop some popcorn and have a family movie night to watch a Christian family movie.
Have a worship dance party - Ask "Alexa" to play kids worship songs or look some up on YouTube. Play "Freeze Dance": play the music, dance away, then stop the music in the middle of a song, and freeze. If you move, you are out. Continue until you have a winner.
Go for a family prayer walk. As you walk the neighborhood, stop and let your children lead a quick prayer for a neighbor, a garden, the weather, each other, etc. The options are endless. And no, you don't have to invite the neighbor, God will listen and know what you are praying for.
Worship Service - Let your kids plan a service. (This may need some parental help.) Some ideas are they can pick a few "church songs" (YouTube search Christian kids music), read a favorite story in the Bible, find a video to go with the story, collect an offering to save and bring to church when we resume, and even act out the story.
As a family, watch the online worship services at www.rlcary.org/about-us/online-worship.
The list is endless. I would love to hear about any of these options or other fun adventures you enjoy as a family in the coming weeks. Challenge your children to be creative and help the family continue their faith journey during this time of the COVID-19 church closure. Please stay healthy, as this shall pass, and I look forward to hearing about your "Family Bible Time".
Peace to you,
Lea Webb, Co-Director of Children and Family Ministry



Children's Church

Children's Church is held during the 10:45 am Praise service in the Family Life Center. Children, ages 3-6, will be dismissed before the sermon for a 20 minute Bible lesson and crafts/songs. This time will help grow their faith.
For more information or if you are interested in assisting with Children's Church, contact Lea Webb, Co-Director of Children and Family Ministry, at .
Christian Education
Baptism Class
Welcome to the Family! Lutheran Baptism Theology and Practice is held twice per year in the Fall and Spring during the education hour, 9:15-10:15 am. This one session class is for parents who are planning to have their child baptized at Resurrection. This class will help you understand Lutheran Baptism theology and practices. Families are requested to participate in order to be prepared for their child's baptism. There will be time for instruction and time to allow you to meet and form connections with other Resurrection families. All materials will be provided.
Contact MaryAnn Unger, Co-Director of Children and Family Ministry, at , if interested.


Toddler Bibles
Bibles were distributed during (The Baptism of Our Lord) Sunday services on January 12, 2020. If you were unable to attend, please contact MaryAnn Unger, Co-Director of Children and Family Ministry, at to receive one.


My Bible and Me (3rd Grade Children and Parents)
My Bible and Me is now incorporated into the 3rd Grade Sunday School class. On Sunday, October 27, 2019 at the beginning of the 10:30 service, 3rd Grade students were presented with a Bible and received a blessing. Parents also participated in this special event.
Questions can be directed to MaryAnn Unger, Co-Director of Children and Family Ministry, at .


5th Grade 10 Commandment Review
Fifth Grade Students who are preparing for First Communion will review the 10 Commandments during scheduled sessions led by MaryAnn Unger, Co-Director of Children and Family Ministry. Student and at least one parent must attend.
Contact MaryAnn at .


5th Grade Welcome to the Lord's Table
If you participated in the Fall 10 Commandment home study and are planning to have your child make their First Communion, contact MaryAnn at .
Fifth Grade Students (and others interested) preparing for First Communion need to complete Part 1 and Part 2 of Welcome to the Lord's Table with a parent.


5th Grade Seder Meal Celebration
Usually, this event is for First Communion Students, their parents, and family members. Unfortunately, the event scheduled for Wednesday, April 8 from 6:00-8:30 pm in Family Life Center has been cancelled.


First Communion
Fifth Grade Students, who have completed the Welcome to the Lord's Table sessions, Part 1 and 2, usually celebrate their First Communion during the Maundy Thursday (April 9), 7:00 pm worship in the Sanctuary. Sadly, there are no in person worship services at this time. More information on First Communion will be available at a later date.

Youth Group
K.I.C.K.S (Kids In Christ Keep Shining)

K.I.C.K.S. provides fun and fellowship for kids in 3rd-5th grade.
For more information or if you are interested in assisting, contact Lea Webb, Co-Director of Children and Family Ministry, at .
VACATION BIBLE SCHOOL (VBS)
All Aboard! We always have a great time at Vacation Bible School! This summer during Rocky Railway, we will share God's love and grow in faith through music, crafts, stories, and activities. Thank you for being part of the fun and fellowship!
Preschool (3 year old) through 3rd Grade
Monday-Friday, August 3-7 (note date change!)
9:00 am-12:00 pm
Let's hit the tracks and explore how Jesus' power helps us through everything!
There was a $10 registration fee. You can pay on first day.
For Service
Acolytes
As of Monday, March 16, we have temporarily discontinued all in person worship services, so acolytes are not needed at this time.
Being an acolyte allows our youth, grades 5-8, to be actively involved in serving at RLC. You are able to sign up online for dates and worship times that work for your family.
www.signupgenius.com/go/20f0b48afa62c7-summer
Our practice is for 5th-8th grade students to serve as acolytes and be actively engaged during the service. Thus, allowing them to see the importance of worship. We hope you encourage and provide the opportunity for your child to regularly participate in this area of service.
Any questions or to schedule a brief training, please contact MaryAnn Unger, Co-Director of Children and Family Ministry, at .
Questions you may have regarding any of these programs can be directed to the Co-Directors of Children and Family Ministry,
MaryAnn Unger or Lea Webb.

Fellowship for moms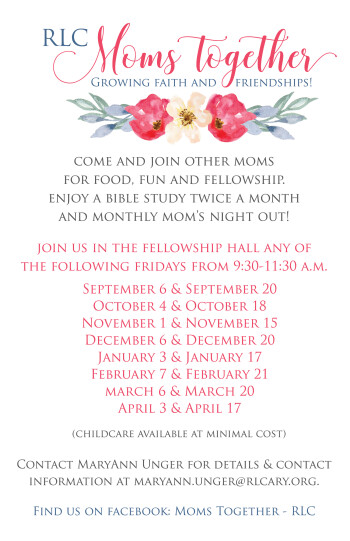 PICTURE GALLERY
First Communicants 2019