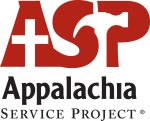 Appalachia Service Project (ASP) is a Christian ministry, open to all people, that inspires hope and service through volunteer home repair and replacement in Central Appalachia.
Repairing Homes, Transforming Lives
ASP provides one of the most rewarding structured service opportunities in the nation — bringing thousands of volunteers from around the country to rural Central Appalachia to repair homes for low-income families.
For more information, check out Appalachia Service Project website HERE.


Appalachia Service Project at Resurrection
High school youth and adults join with others from around the country to help improve living conditions of those in need in the Appalachia region. Groups from RLC have been participating with ASP in various places in the Appalachian Mountains since the summer of 2000.
For more information about ASP at RLC, contact the church office ( , 919-851-7248).



ASP Summer 2022
Unfortunately, RLC's ASP mission trip is cancelled for Summer 2022.


ASP Summer 2019
This was the 19th summer that RLC has participated in the Appalachia Service Project. The team included 25 youth and 10 adults, including several non-RLC members. They traveled to Harlan County, Kentucky from Sunday, June 23 through Saturday, June 29, 2019.
They were divided into 5 teams and performed a variety of improvements on homes in Harlan County. Our efforts included replacing sub flooring and flooring in several homes, adding a 2nd exit to a home in another, and building a ramp and deck on two other homes. It was a very rewarding week for all 35 of us!
One of the church groups that was with the team in Harlan County was a Methodist church from Austin, Texas that has been coming to ASP for 40 years. It certainly makes it so clear what a wonderful outreach ASP is for our youth and so many other youth in our nation.
The theme for 2019 was "Be the Peace" (1 Samuel 25:6).
1 Samuel 25:6 says...
Thus you shall salute him:
"Peace be to you, and
peace be to your house,
peace be to all that you have."

The cost of participation is $175, which includes room and board. Financial assistance is available.
One very easy fundraiser to participate in. Youth must be 14 years old or a rising 9th grader.
Questions? Please contact the church office ( , 919-851-7248) or visit asphome.org.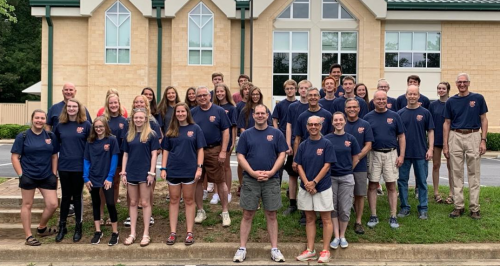 2019 ASP Servant Trip - Harlan County, Kentucky
ASP Picture Gallery:
2018 ASP