Our quilters are currently working on face masks for COVID-19 protection, quilts for Sleep in Heavenly Peace bunk beds, and quilts for Lutheran World Relief.
They normally meet every Tuesday from 11:30 am-3:00 pm and the third Saturday of every month from 9:00 am-1:00 pm in Room 151 of the Family Life Center.
CONTACT: Diane Hoffmeister or Eileen Douglas
Face Masks
First, a nurse from UNC Hospital requested sewn facial masks for their staff to be worn on top of their CDC certified masks to extend the time the CDC masks can be worn. These masks will be sanitized and reused throughout the pandemic. In just a few days, they made 87 masks. Then they delivered 233 masks to a medical group heading to New York!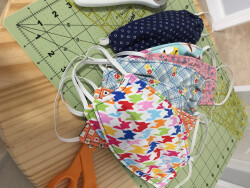 They sure are busy making masks - another 319! They went to a paramedic, a local nurse, our congregation, and down to Louisiana.
Also, the North Carolina Food Bank reached out for masks for their workers and delivery drivers. Another 100 masks were made and distributed to 6 food bank branches across the state.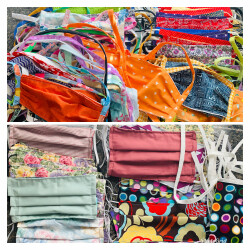 Recently, masks went to our congregation, the Red Cross, a nursing home in Apex, paramedics, and to Louisiana.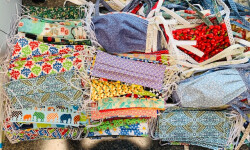 Another 562 masks, bringing the total to over 1,600 masks! These were distributed to our congregation, a nursing home, a first responder, and a local nurse. 235 adult masks went to a physical therapist for their elderly clients and 50 kid- sized masks were delivered to Duke Children's Hospital.


If you are interested in receiving a mask, please contact the church office (919-851-7248, ). Note the masks are made of cloth; they do not provide full protection against the virus.


Sleep in Heavenly Peace
SHP provides beds for local children who do not have one to sleep in.
www.shpbeds.org


Lutheran World Relief