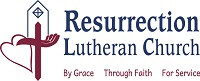 Thursday, October 11, 2018, 7:00 PM - 8:00 PM
Council Update and Open Forum
The Council has met to begin identifying the topics to be addressed during the upcoming transition period. This includes methods of communication, decisions related to the pastoral care of the congregation, the education and youth programs, and ongoing support of other church activities. It is important that recently developed plans, such as Next 40 and the Go Forward Plan, continue as envisioned. We are the Body of Christ, which is more than any particular person, and the Council will provide leadership needed to ensure life at Resurrection Lutheran Church isn't put on hold while we seek new pastoral staff.
We will hold an open congregational forum on Thursday, October 11 at 7:00 pm in the Sanctuary. The purpose of this forum is to share with you our initial thoughts about our path forward, and to hear your ideas. No decisions have been made about the Call process or either of the candidates who have visited recently.
More information about our proposed action plan is in the October newsletter, which is available hard copy outside both worship areas, and also was emailed this week via RCB. As this plan is refined and decisions are made, the Council will provide regular updates to the congregation. We hope you will take the time to read the updates and reach out to us with your questions and suggestions. We will hold additional meetings with the congregation at key milestones through the transition period.
Please contact any of the Council members with questions or suggestions at . Our individual contact information is in the newsletter or on RCB.
Teresa Gresham (President), Bob Shimmel (Vice President), Alan Shaw (Secretary), Dave Geisler (Treasurer), Joe Bastante, Matt Beaty, Matt Bowling, Heather Hilldale, and Sonja Striplin