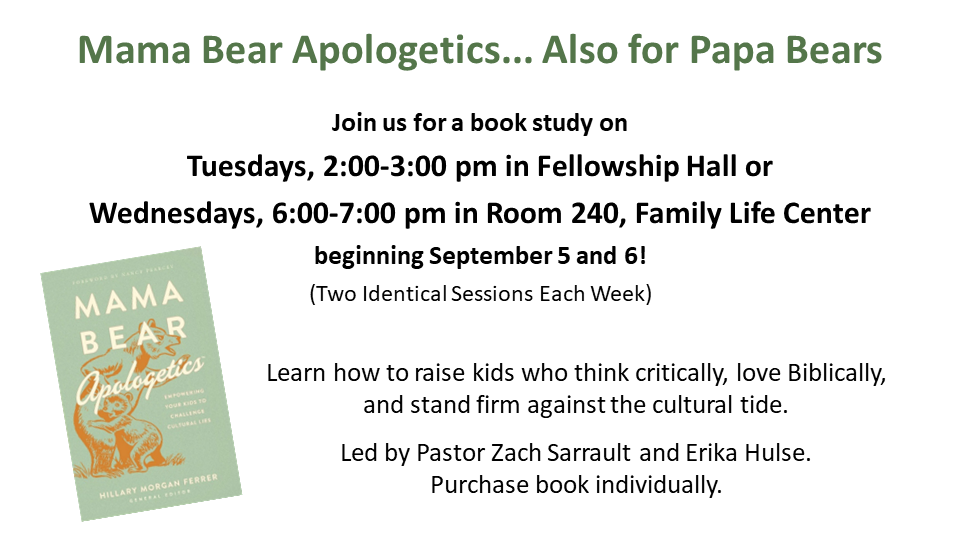 Every Tuesday, from 09/05/2023 to 12/19/2023, 2:00 PM - 3:00 PM
Mama Bear Apologetics...
Also for Papa Bears

Join us for a book study on Mama Bear Apologetics!
We will offer 2 identical sessions each week on
Tuesdays, 2:00-3:00 pm in the Fellowship Hall or
Wednesdays, 6:00-7:00 pm in Room 240, Family Life Center,
beginning September 5 and 6.

Learn how to raise kids who think critically, love Biblically, and stand firm against the cultural tide. This book study will equip you to teach your kids how to affirm Biblical beliefs about what is true and what is false. Through transparent life stories and clear, practical applications — including prayer strategies — these Mama Bears offer you tools to train yourself, so you can turn around and train your kids.
You will need to purchase the Mama Bear Apologetics book. You will want to attend if you have your own children or grandchildren, want to have children one day, or interact with children on a regular basis - anyone that has an intentional relationship with kids is encouraged to join us.

Questions? Contact Pastor Zach Sarrault or Erika Hulse.