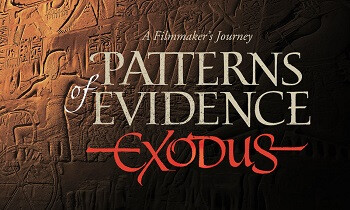 Every Wednesday, from 09/15/2021 to 12/15/2021, 6:30 PM - 7:45 PM
Wednesday Night Bible Study
Patterns of Evidence: The Exodus
Beginning Wednesday, September 15 from 6:30-7:45 pm
Room 151, Family Life Center

A Wednesday Night Program resumes! Mindy Stephani will lead learners in a NEW program from RightNow Media called Patterns of Evidence: The Exodus. Here's a little bit about the program:
A debate rages over the credibility of the Bible. Most archaeologists today have concluded that there's no evidence that the Exodus of Israelite slaves from Egypt ever happened. Filmmaker Timothy Mahoney faces a crisis of faith, "Is this foundational event of the Bible really just a myth?" He embarks on a 12-year journey around the world to search for answers.
Patterns of Evidence: The Exodus unlocks the mystery of this ancient saga, combining a scientific investigation with a retelling of the Exodus story to reveal an amazing pattern of evidence matching the biblical account that may challenge our understanding of history. Featuring stunning animations and a cast including Narrator, Kevin Sorbo (God's Not Dead, Hercules: The Legendary Journeys), interviews with leading archaeologists including Israel Finkelstein, Kent Weeks, and David Rohl, and guest appearances by Israel's Benjamin Netanyahu and Shimon Peres. Dig Deeper into this riveting evidence for the Exodus out of Egypt and the Conquest of the Promised Land. This small group study includes thought-provoking questions that will help you explore key scenes from the film and why it matters to our faith.
We will gather in-person with our masks at this point in time in Room 151, Family Life Center. The class will run from 6:30-7:45 pm and begins on Wednesday, September 15, ending just before Christmas. Register with the church office ( , 919-851-7248). Hope you will join us!