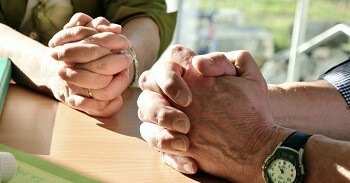 Every Sunday, from 11/07/2021 to 12/19/2021, 9:30 AM - 10:30 AM
Christian Caregiving

Have you ever had a friend or neighbor who was hurting spiritually or emotionally? Have you ever wanted to share, with another person, the love and caring you may have received from fellow Christians? Have you ever known someone who was being consumed by guilt and needed the freedom that God's forgiveness brings? Have we got the course for you!
RLC will be offering a 6-week course based on the book, Christian Caregiving: A Way of Life, by Kenneth Haugk, pastor and clinical psychologist who is the founder of the Stephen Series (Stephen Ministry). This course will help you discover ways to become a distinctively Christian caregiver.
Beginning on Sunday, November 7, the class will meet in Room 251, Family Life Center, at 9:30 am during the Sunday school hour for 6 weeks. No class held on November 28 and December 12.
Contact Sue Campau, Jan Boyer, Pastor Alan Shaw, or the church office ( , 919-851-7248) to sign up and make arrangements to receive a copy of the book.