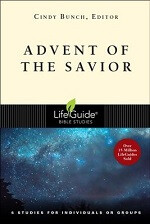 Every Monday, from 11/14/2022 to 12/19/2022, 7:00 PM - 8:00 PM
Monday Night Women's Bible Study
Mondays, 7:00-8:00 pm
November 14-December 19
Room 151, Family Life Center

Join us in person for a new study of Advent of the Savior!
We will also have a Zoom group available at the same time on Monday evenings.

Join us for this six-session LifeGuide® Bible Study which will introduce you to the circumstances surrounding the birth of Jesus, remind you of God's faithfulness and power to fulfill his promises, and draw you more deeply into the love that brought Christ to earth.
We will meet in person and have a Zoom option available. Books are available through Amazon and christianbook.com. A digital version is also available through Amazon.

Questions? Contact Jamee Thieme through RCB or the church office (919-851-7248, ).