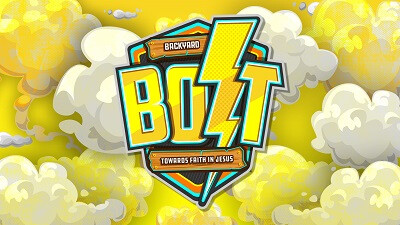 WELCOME TO BOLT VBS!

With minimal preparation, easy to follow instructions, and a video that leads you and your kids step-by-step through each of the 3 days, BOLT is designed to bring all of the fun and faith-formation of Vacation Bible School to the cozy confines of your home. It's so simple!
During BOLT, your family will participate in fun games that illustrate what it means to listen to, focus on, and follow Jesus. Depending on your pace, you can expect that each day's experience will last about an hour and a half. It's great for the whole family, even middle and high school kids can enjoy it!
Now start by reading the Parent and Leader Guide below. After that, you'll be ready to go!

This guide will answer so many of your questions and give you simple step-by-step directions for using BOLT. There are a few materials you'll want to gather beforehand, but when BOLT begins, the videos will tell you what to do and when to do it. It really is easy!

---
KICK OFF ~ MONDAY, AUGUST 3


---
DAY ONE ~ TUESDAY, AUGUST 4
Video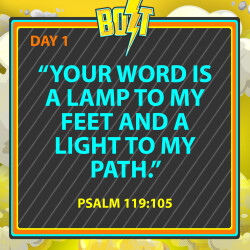 ---
DAY TWO ~ WEDNESDAY, AUGUST 5
Video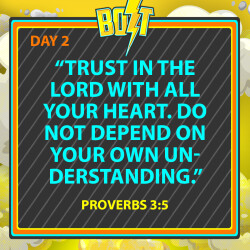 ---
DAY THREE ~ THURSDAY, AUGUST 6
Video
---
BOLT MUSIC
BOLT VBS features music by Ben Calhoun of the chart-topping Christian band, Citizen Way. Their hit song "Bulletproof" has almost 13 million plays on YouTube alone.
If you would like to listen to the 3 featured songs (plus many more) with your family, you can stream them through this Spotify playlist.

---
Thank you for joining us this week
for our BOLT Backyard VBS Adventure!
We hope this week has brought you and your family fun and Vacation Bible School excitement! With each daily activity and story, I hope your faith has continued to grow stronger with Jesus.
If there is any way we can help your family or your children, please contact us at or 919-851-7248. The Resurrection Lutheran Church staff is always available to you.
You can follow us on Facebook or Instagram (@ResurrectionLutheranCary) for more information or upcoming events.

Peace to you all,
Lea Webb
Director of Children's Ministry