Resurrection Lutheran Church (RLC) offers a broad array of Christian education opportunities to grow in grace, including Sunday morning education classes for adults and children, confirmation classes, mid-week Bible studies, and Vacation Bible School held in the summer.


Sunday Morning
RLC values Christian education, for adults and children, and considers it to be an essential part of a healthy equipping ministry. We offer Sunday School opportunities for adults and children from 9:30-10:30 am, September through May. Occasionally, we offer summer Bible study opportunities.


Adult Christian Education

The Poet Speaks With God
People of faith have expressed themselves to God through poetry for many centuries. We have all enjoyed and have found both comfort and inspiration in the psalms of David. This study will examine poems by four men who were deeply devout followers of Christ and will trace the connections that each poem has with Scripture. Edward Taylor, John Donne, John Milton, and Gerard Manley Hopkins are regarded today as four truly outstanding poets.
Come join us on Sunday mornings at 9:30 am in the Fellowship Hall from July 10-August 28 as we explore beautiful poems in which, like King David, these men express the concerns, joys, fears, frustrations, and hopes they experienced in their walk with God.
Questions? Contact Larry Cameron or the church office (919-851-7248, ).
Youth Sunday School
Join us for Sunday School from 9:30-10:30 am, September-May! All classes are held in the Family Life Center.
2-4 year olds in Room 134
Kindergarten-1st Grade in Room 131
2nd-3rd Grade in Room 133
4th-5th Grade in Room 132
6th-8th Grade in Room 246
9th-12th Grade in Room 253 (The Warehouse)
Weekly Classes
Monday Evening
Women's Bible Study
Dates: September 12-October 31
Time: 7:00-8:00 pm
Place: Room 151, Family Life Center, and Online via Zoom
Leader: Jamee Thieme, Sharon Hahne
Promised Rest by Michelle Diercks
Join us in person on Mondays, 7:00-8:00 pm, starting September 12 through October 31 in Room 151, Family Life Center, for a new study of Promised Rest by Michelle Diercks. We will also have a Zoom group available at the same time on Monday evenings.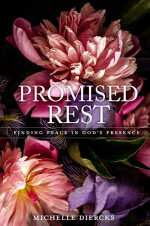 Each week of this eight-week study will feature a new name or characteristic of God along with its pronunciation and a biblical fact about it. Learn from author Michelle Dierck's personal anecdotes and biblical examples of how you can, and should, cling to God's names during times of anxiety and hardship.
Books are available through christianbook.com, cph.org, or Amazon. Amazon also has the book available in the Kindle store.
Questions? Contact Jamee Thieme through RCB or the church office (919-851-7248, ).

Men's Ministry Weekly Study and Fellowship
Dates: Ongoing, September-May
Time: 7:00-8:15 pm
Place: Room 240, Family Life Center
Leader: Tom Gebbia

Men gather for fellowship, study, and small group discussion. The Men's Ministry's Monday night study and fellowship runs September through May. All men welcome.
Contact Tom Gebbia at or join the Men's Ministry group through RCB.
Tuesday Morning
Tuesday Morning Bible Study and Fellowship
Dates: Ongoing, September-May
Time: 10:30-11:30 am
Place: Fellowship Hall and Via Zoom
Leader: Pastor Jonathan Blanke, Pastor Zach Sarrault
God gives His Word to instruct, guide, and bless our lives. The Scripture lessons in worship offer a menu every Sunday to build up the people of God in faith and hope. We will study the lessons for the following Sunday, and as we do, we expect that this Word will enrich and edify our community prayer, faith, and servant life in Christ.
We will study the coming Sunday Scripture lessons, confident that the Spirit will be:
Enhancing and enriching our Sunday worship life!

Letting God's Word edify daily and Sunday faith life!

Connecting the themes of the four lessons into a tapestry!

Listening to the Spirit of God at work in Word and one another!

Building our community life together!

Wednesday Evenings
Men With Kids (Summer Fellowship Series)
Dates: Ongoing
Time: 7:00-8:00 pm
Place: Room 240, Family Life Center, or Off-Site
Leader: Tom Gebbia
The Men with Kids group is meeting Wednesdays, 7:00-8:00 pm at the church and other alternate locations throughout the summer.
Contact Tom Gebbia at or join the Men's Ministry group through RCB.

Monthy Classes
Households of Faith
In Lutheran Hour Ministries' Households of Faith video study, you'll learn how to apply spiritual disciplines, extend hospitality, and engage in spiritual conversations so you can transform your household into a more open and engaging place where God's love is shared, and people are encouraged to learn more about Jesus.
Who is it for?
Families with Students (kindergarten through high school). Bring your students and we'll talk about growing in the faith together!
Dates: Thursdays, June 23, July 7, July 21, and August 4
Time: 6:30 pm
Location: Sarrault's House
Register with the church office at or 919-851-7248. Questions can be directed to Pastor Zach Sarrault.


First Communion
First Communion Class for 5th Grade Youth was held on Wednesdays, 6:30-7:30 pm from January 5-February 23, 2022 in Room 242, Family Life Center. The instruction book was This Is the Feast: Preparing for the Lord's Supper (CPH).
If interested in receiving more information about opportunities for Holy Communion among our church's youth, please reach out to Pastor Jonathan at .
Confirmation
Youth Confirmation at RLC is a 2-year program that traditionally begins at Grade 7 (Confirmation 1) and finishes at the end of Grade 8 (Confirmation 2).
If you are interested in Confirmation, please reach out to Pastor Jonathan at .
LEARN MORE about our Confirmation program.
VACATION BIBLE SCHOOL (VBS)

Monday, June 13 - Friday, June 17
9:00 am-12:00 pm

Thank you for a great week!
Click here for more information.
RightNow Media
We are excited to share that Resurrection Lutheran Church now has access to an extensive, new video library called RightNow Media!
It's like the "Netflix of Video Bible Studies" and has a HUGE library of faith-based videos that you can access whenever and wherever you want—on your phone, tablet, computer, or on your TV at home. You get FREE access to thousands of video resources to help you with parenting, marriage, discipleship and more. It includes content for all ages and stages of life, and all of your family members are invited to set up their own accounts as well.


Use this link to sign up for a FREE RightNow Media Account:
https://www.rightnowmedia.org/Account/Invite/RLCCary

You can also download the RightNow Media app for your smart phone, tablet, Apple TV, Roku, or Amazon Fire TV.
There is no cost to you. Once your account is set up, you can start watching right away! You will have access to over 20,000 Biblically based videos for individuals, families, students, small groups, leadership development, and more. We hope you enjoy this gift from us to you!