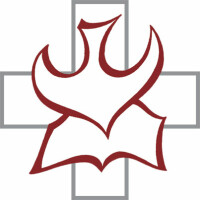 In early 2020, our 8th grade Confirmation students prepared their faith affirmation statements. This was their opportunity to confirm the promises their parents and sponsors made at their baptism, and to share with the congregation their beliefs. Unfortunately due to the COVID-19 virus, many students did not have a chance to share their faith statements during worship. Also, Confirmation Sunday and their banquet was unable to happen as originally planned.
Fortunately, we were able to celebrate Confirmation Sunday on August 30, 2020.
Each week leading up to this Sunday, we highlighted 3 confirmands in the weekly announcements and on this page, including a video of their faith affirmations.
Thank you for your continued support and encouragement
during this time and throughout their faith life.


Confirmation Class of 2020
Evan Thiede
Cast your cares on the Lord and he will sustain you; he will never let the righteous be shaken. - Psalm 55:22
Christian Villadsen
Be strong and courageous. Do not be frightened or dismayed, for the Lord your God is with you wherever you go. - Joshua 1:9
Erin Wenzel
Humble yourselves, therefore under God's almighty hand, may he lift you up in due time. Cast all your anxiety on him because he cares for you. - 1 Peter 5:6-7
Travis Taylor
And who through the Spirit of holiness was appointed the Son of God in power by his resurrection from the dead: Jesus Christ our Lord. Through him we received grace and apostleship to call all the Gentiles to the obedience that comes from faith for his name's sake. - Romans 1:4-5
Marta Striplin
Watch your life and doctrine closely. Persevere in them, because if you do, you will save both yourself and your hearers. - 1 Timothy 4:16
Jackson Stow
Do not be anxious about anything, but in everything by prayer and supplication with thanksgiving let your requests be made known to God. - Philippians 4:6
ABBY SOTTINI
I can do all things through him who strengthens me. - Philippians 4:13
Anna Smith
Love the Lord your God with all your heart and with all your soul and with all your mind and with all your strength. - Mark 12:30
RILEY PEACOCK
The Lord is my strength and my song, and he has become my salvation; this is my God, and I will praise him, my father's God, and I will exalt him. - Exodus 15:2
Garrett Kuo
Jesus spoke to them saying, "I am the light of the world. Whoever follows me will not walk in darkness, but will have the light of life." - John 8:12
Aiden Kerns
How can a young man keep his way pure? By living according to your word. - Psalm 119:9
Laura Kell
We are hard pressed on every side, but not crushed; perplexed, but not in despair.
- 2 Corinthians 4:8
Sam Huddle
Be self-controlled and alert. Your enemy the devil prowls around like a roaring lion looking for someone to devour. Resist him, standing firm in the faith, because you know that your brothers in the world are undergoing the same kind of sufferings. - 1 Peter 5:8-9
Daniel Hofman
Those who are wise will shine like the brightness of the heavens, and those who lead many to righteousness, like the stars for ever and ever. - Daniel 12:3
Amanda Hagedorn
Therefore, if anyone is in Christ, the new creation has come. The old has gone, the new is here! - 2 Corinthians 5:17
Blake Burgiss
The Lord is my shepherd, I lack nothing. He makes me lie down in green pastures, he leads me beside quiet waters, he refreshes my soul. He guides me along the right paths for his name's sake. Even though I walk through the darkest valley, I will fear no evil, for you are with me; your rod and your staff, they comfort me. - Psalm 23:1-4
Cassidy Brake
Have I not commanded you? Be strong and courageous. Do not be afraid; do not be discouraged, for the Lord your God will be with you wherever you go. - Joshua 1:9
Will Barnes
They stripped him of his clothes, beat him and went away, leaving him half dead. But a Samaritan, as he traveled, came where the man was; and when he saw him, he took pity on him. - Luke 10:30, 33
Melanie Baldisserotto
Have I not commanded you? Be strong and courageous. Do not be afraid; do not be discouraged, for the Lord your God will be with you wherever you go. - Joshua 1:9
Dillon Astudillo
Your word is a lamp for my feet, a light on my path. - Psalm 119:105
Nicholas Altieri
Whatever you do, work at it with all your heart, as working for the Lord, not for human masters - Colossians 3:23