We are currently engaged in an 8-week Sermon Series and Sunday Morning Study that will take us from heaven to earth and back again on an inspiring visual, storytelling journey through the Lord's Prayer.
Whether you've prayed the Lord's Prayer a thousand times or you're not quite familiar with every word, Our Way Home invites you on an incredibly vivid journey through the Lord's Prayer, where you will discover the power, the beauty, and the depth of the world's most famous prayer. Daniel E. Paavola surrounds each petition with captivating imagery and storytelling that will animate your praying, making it a prayer you will live out every day—in any situation and in every circumstance.


Opening Session
We kicked off the study with an Opening Session, "Anatomy of the Lord's Prayer" with author, Daniel E. Paavola on Saturday, January 12 from 3:00-5:00 pm in the Fellowship Hall, followed by a soup supper at 5:00 pm.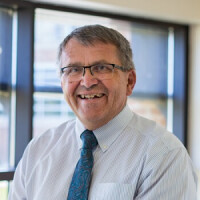 Paavola is a professor and pastor with the gifts of storytelling, motorcycle riding, and Model T restoring. He is a professor of theology at Concordia University Wisconsin and served twelve years as pastor at St. Paul Lutheran Church in Butternut, Wisconsin.


Sermon Series
January 13
Introduction / Chapter 1
I'm Going Home / Coming to Our Father's Home
Our Father who art in heaven,

January 20
The First Petition / Chapter 2
Singing with the Heavenly Choir
Hallowed be Thy name
January 27
The Second Petition / Chapter 3
"You Come Too"
Thy kingdom come,
The Third Petition
Thy will be done on earth as it is in heaven.
February 3
The Fourth Petition / Chapter 4
Showers When They Come
Give us this day our daily bread;
February 10
The Fifth Petition / Chapter 5
The Flood
and forgive us our trespasses as we forgive those who trespass against us;
February 17
The Sixth Petition / Chapter 6
Catch Me!
And lead us not into temptation,
February 24
The Seventh Petition / Chapter 7
It's Time to Go Home Again
But deliver us from evil.
March 3
The Conclusion / Chapter 8
The Songs We Sing As We Ascend
For Thine is the kingdom and the power and the glory forever and ever. Amen.


Sunday Morning Study
January 13-March 3
9:15-10:15 am
Room 102, Fellowship Hall
Led by Alan Shaw, Tim Striplin, Tim Kearby, Bob Unger, John Heilman, Kathy Rihani, and Melinda Stephani, the Sunday Morning Study will follow the same schedule as the Sermon Series listed above. Click HERE for brief bios of the leaders.
The only exceptions are on February 17, we will combine The Sixth Petition/Chapter 6 and The Seventh Petition/Chapter 7. This will allow us to meet with Megan Mantey on February 24. She will share about the Mission-Minded Mantey's ministry in Uganda, a presentation rescheduled due to inclement weather on December 9.
Study Notes
January 13, Introduction/Chapter 1, Alan Shaw - .PDF of PowerPoint


Our Way Home books are available for a $5 suggested donation in the church office and at the Sunday morning classes.
Devotions and Study Guides are also available to support this study.


Study Wrap-Up
Looking Back Over the Journey / Chapter 9
Sunday, March 3 from 12:00-2:00 pm
Family Life Center Gym


Small Groups
This series is an excellent opportunity to connect or reconnect with friends over the 8-week period in a Small Group or Book Club. A discussion guide, as well as individual and family devotions, will be available to support the small groups.
If you'd like to offer your home as a small group meeting place or would like to lead a group for this short period, please contact Deb Oesterling at .
Home? Coffee shop? Grab one friend or several, or invite a new member to join you. Connect, plug in, and join us on the journey from heaven to earth and back again.