Resurrection's Student Ministry offers the youth of our congregation spiritual-based meetings and fun activities ideal for their age groups.
Contact: Jenny Piontek, Youth Director


Sunday Morning
Join us for Sunday School from 9:30-10:30 am!
We are excited to have Youth Sunday School again in-person. Thank you to all the teachers who have volunteered to lead this year. Children, 4 years and older, are asked to wear masks. Sunday School for children and youth, preschool-high school, runs September through May from 9:30-10:30 am in the Family Life Center.
6th-8th Grade is led by Tom Kolb and Troy Hirt in Room 246, Family Life Center.
Connection Café for 9th-12th Grade is led by Jenny Piontek in Room 253 (The Warehouse), Family Life Center.
Youth Groups
IGNITE gets together once or twice per month for on/off campus activities for youth group fellowship throughout the school year.
Why Ignite?
6th through 8th graders are in an important stage of faith building. The goal of Ignite is to spark that faith flame and watch it grow! We will have fun, ask questions, build our team and group up, learn, serve, engage, grow and take that faith spark out into our homes, church, families and community.


Ignite GroupMe
This is a private page that you must sign up for with Ms. Jenny. We will utilize this page to send out last minute information, direct messages, or pictures of events. This format is open to youth (who have cell phones and permission) and Ignite parents. Just contact Ms. Jenny with cell phone numbers to add.


Warehouse Wednesdays
Warehouse Wednesdays are in full swing! From 6:00-6:25 pm every Wednesday, all 6th-8th graders can come, play, and hang out. At 6:25 pm, our 7th and 8th graders will be released to their appropriate confirmation classes with Pastor Zach and Pastor Alan from 6:30-7:30 pm. The 6th graders can stay with Ms. Jenny in the Warehouse from 6:30-7:30 pm for a time of small group, devotion, games, and team building.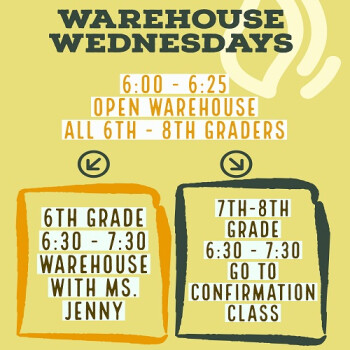 Monthly Events
This is youth group. Each month, we will have one large youth group event for all 6th-8th graders on Sunday afternoons from 3:00-4:30 pm. There will be a theme to each event and we will get to know each other, play some games, and make some memories.
On Sunday, November 21 from 1:30-3:00 pm will be Ignite/Middle School youth group. We will meet in The Warehouse to start. Join us for fun and games celebrating all the blessings of Fall!



Servant Events
Servant events will be offered to the Ignite group on a monthly basis. There will be a Sign Up Genius that goes out 2 weeks in advance for all service projects.
Saturday, November 20 from 9:00-11:00 am
Join us for the Sleep in Heavenly Peace Build Day!



Mission Trip
Announcing our Ignite/Middle School YouthWorks Mission Trip!
Dates: June 26-July 1, 2022
Where: Rutherford County, NC (Foothills of the Blue Ridge Mountains)
Registration and deposit are being accepted now. There are limited spaces, so get signed up. Registration will close whenever all spots are taken or by December 1, whichever happens first. Pamphlets are available in the Warehouse. This in-state opportunity will be such a blessing for youth, adult leaders, and the NC community we will serve.



National Youth Gathering (NYG)
8th Graders: If you are signed up for our NYG 2022 trip, our first meeting is Tuesday, October 26 at 7:00 pm.

Participation/Health Forms
Please fill these out as quickly as possible. Here is the link: https://forms.gle/7mLMvohomHYjayyP8
Masks will be worn anytime our activities are inside the church building. When we are playing outside, depending on the activity, masks will be worn when we cannot be physically separated. Basically, the youth will always need to come to campus with a mask and be prepared.


I am really looking forward to an exciting year with Ignite. Any questions, please feel free to contact me at .
Click Here for Ignite's Picture Gallery!
Health forms needs to be filled out now to participate in all Breakaway events. Here is the health forms link: https://forms.gle/fS9wunrXAg9nxjDL7
What a great start to the 2021-2022 Breakaway year!
November Upcoming Events



Service Opportunity
Saturday, November 20 - Sleep in Heavenly Peace Build Day!

Leadership
Next meeting is Sunday, November 14 at 12:30 pm.


National Youth Gathering 2022
If you are signed up for our NYG 2022 trip, our first meeting is Tuesday, October 26 at 7:00 pm.
The National Youth Gathering is sponsored by the Lutheran Church-Missouri Synod (LCMS) every 3 years and allows youth and their leaders to congregate in a city to celebrate their faith, learn and grow in their faith, worship and praise their almighty Creator and be surrounded by youth from all over the world that are a part of Christ's epic story. In July 2022, NYG will be meeting in Houston. However, the planning, prepping, and building our team begins now.

Instagram
This is a private group (@rlcbreakaway), so please request access.


Click Here for Breakaway's Picture Gallery!
I am available to you through email ( ), Instagram (@rlcbreakaway), GroupMe, or text/phone (check RCB).

CONFIRMATION
Youth Confirmation at RLC is a 2-year program that traditionally begins ("Confirmation 1") at Grade 7 and finishes at the end of Grade 8 ("Confirmation 2"). After a pandemic year, we recognize that some flexibility in Grades as young people enter this structured faith formation process is warranted - thus our rebranding each class "Confirmation 1" and "2."
If you are interested in Confirmation this year, please reach out to Pastor Jonathan at .
LEARN MORE about our Confirmation program.

For Service
Acolytes
We are bringing back acolytes! If you would like for your child to be on our acolyte list, please let Pastor Zach or Pastor Alan know.
All confirmation students had acolyte training on Wednesday, October 6. We will only add them to the acolyte list, if you give us permission.
Being an acolyte allows our youth to be actively involved in serving at RLC. You are able to sign up for dates and worship times that work for your family.
Our practice is for middle school students to serve as acolytes and be actively engaged during the service. Thus, allowing them to see the importance of worship. We hope you encourage and provide the opportunity for your child to regularly participate in this area of service. Plus, they earn an hour of service.
Any questions, contact Pastor Zach Sarrault at .
SCRIP
SCRIP is a gift card buying program that allows families to earn money through the purchasing of gift cards or e-cards. You just need to change your mindset a bit! When you plan to go shopping for the things you are already going to buy (groceries, Amazon, home improvements, etc.), purchase a gift card or e-card first through Scrip and then shop. You earn a percentage of the gift card/e-card purchase for your youth's account. This money adds up fast and can be used as payments towards NYG, camps, events, etc.
Don't have any youth, but still want to help out? You CAN!
You can direct your earned rewards to the church's love fund, RLS, RLP, RLC Youth, or designate one youth's family. SCRIP is an easy way to help out with Resurrection Lutheran youth programs.
If you are interested in joining SCRIP or finding out more information, please contact Jenny Piontek ( ).
Mission Trips
Mark your calendars ~ June 26-July 1, 2022!
On June 26-July 1, 2022, we will be participating with YouthWorks for the Blue Ridge Mountain mission project. This in state opportunity will be such a blessing for youth, adult leaders, and the community we will serve. More information will be coming out soon!
2019 YouthWorks Mission Trip - Blue Ridge Mountains, NC
June 16-21, 2019
Such an exciting adventure and thank you for being a part of the team! It was a fantastic week of doing God's good work with our hands! This mission trip was open to youth in grades 6-9.
Middle School Mission Trip 2018
YouthWorks Raleigh
Questions? Contact Jenny Piontek, Youth Director.