Resurrection's Student Ministry offers the youth of our congregation spiritual-based meetings and fun activities ideal for their age groups -- IGNITE (6th-8th grade) and BREAKAWAY (9th-12th grade).
Questions? Contact Jenny Piontek, Breakaway/High School Youth Ministry Leader, or LeAnn Trautman, Ignite/Middle School Youth Director.
Sunday Morning
There will be no Sunday School until further notice.
IGNITE meets Sunday mornings, 9:15-10:15 am, for Christian education in Room 246 of the Family Life Center, September through May.
BREAKAWAY's Connection Cafe meets Sunday mornings, 9:00-10:15 am, for Christian education and breakfast items in The Warehouse (Room 253) of the Family Life Center, September through May. Come for a time of guided conversation about the real things teens walk through every day. Discover how to apply God's Word to your walk in very real, tangible ways.
Youth Groups
IGNITE gets together once or twice per month for on/off campus activities for youth group fellowship throughout the school year. The Warehouse (Room 253) in the Family Life Center is open for Ignite from 6:00-6:25 pm during Wednesday Night Workshop (Confirmation) for fun and friendship. Come join us - it is a great place to hang out!
IMPORTANT: Our health forms/rules of conduct forms are now online. All youth will need to fill out/sign the forms to participate in any IGNITE or RLC Youth event. If you have any questions, please let me know.
https://docs.google.com/forms/d/1UwGqBj10kMZ-iJ2kfx-erubSHrPocKOAHQYeTMjT_m0/edit

There will be no Ignite/Middle School events until further notice.
Those that have paid for Rockfish will be getting a full refund, as soon as checks can be written. Please be patient as we are unsure when this will occur.
While you are home, I encourage you to take advantage of a free issue of devotions from CPH.
From Concordia Publishing House, "Forming devotional habits in older children's lives will help set them up for a lifetime of faith-focused thinking. Devotions are also a way for children to carve time out of their daily routines to reflect on their lives and their own personal relationship with Jesus. The free issue of My Devotions can help kids to explore their faith, whether on their own or in a family setting. Daily stories and Bible readings will keep God's Word in their hearts, even while they are away from a normal classroom setting. Coordinating journal ideas will give time for kids to reflect on the readings and what they mean for their lives."
BREAKAWAY meets Sunday evenings, 6:45-8:30 pm, for youth group fellowship throughout the school year in the Warehouse (Room 253) in the Family Life Center.
Thank you to Pastor Jonathan for coming to Breakaway High School Youth Group! We had so much fun getting to know you and teaching you one of our favorite games (9 square).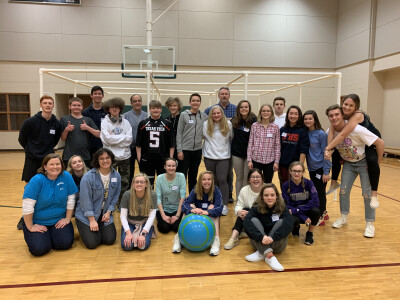 March 22, 2020
I hope this finds all of you well and safely adjusting to your new routines and ways of life. I am sure that there will be growing pains along the way, but I will continue to lift all of you up in my prayers. I will be here for you throughout the challenges we are facing. While there is a lot of uncertainty in the days and weeks to come, we can rest assured in our faith that God is there.
"So do not fear, for I am with you; do not be dismayed, for I am your God. I will strengthen you and help you; I will uphold you with my righteous right hand." Isaiah 41:10
There will be no Breakaway activities or group meetings until further notice.
Rockfish is cancelled!
Refunds will be processed, but please be patient. Though we are looking to reschedule, it may not be feasible for this school year.
Harrisburg YouthWorks Mission Trip
Paperwork and payment is due by May 1 (as of now). Your cost after fundraising will be sent to you electronically within the next two weeks. All medical paperwork and releases is now done online.
Did you know Breakaway has an Instagram account? We do!
I will be going live with devotions at least 5 days a week to start. You can either watch and join the conversation live, or you can watch the replay later in the day. But you have to be on Instagram! It is a private group, so please request access. This is a special way to keep socially distanced, but NOT spiritually distant! Instagram: rlcbreakaway
I will be available to you through email ( ), Instagram (rlcbreakaway), Group Me, or text/phone (check RCB). If you are not a part of any of these, please reach out and I will add you.

Please take a minute and complete these surveys. This will help with planning for next year. Thank you so much!
Parent Survey: https://forms.gle/FCg6tct6ZGi5zRfs9
Youth Survey: https://forms.gle/q9271JmM5Vix6KJT9

Instagram: Request to join Breakaway's Instagram! We post pictures of our events, as well as important information. Search for rlcbreakaway.


2019 Breakaway
For Service

Acolytes
As of Monday, March 16, our church has temporarily discontinued all "in person" worship services at our church location, so acolytes are not needed at this time.
Being an acolyte allows our youth, grades 5-8, to be actively involved in serving at RLC. You are able to sign up online for dates and worship times that work for your family.
www.signupgenius.com/go/20f0b48afa62c7-summer
Our practice is for 5th-8th grade students to serve as acolytes and be actively engaged during the service. Thus, allowing them to see the importance of worship. We hope you encourage and provide the opportunity for your child rto regularly participate in this area of service.
Any questions or to schedule a brief training, please contact MaryAnn Unger, Co-Director of Children and Family Ministry, at .

Shrove Tuesday Pancake Dinner - February 25
Thanks to a great kitchen, setup/cleanup crews, and our amazing Middle School Youth serving team, the Shrove Tuesday Pancake Dinner served over 165 people and raised $1,100 for Appalachia Service Project (ASP). Many thanks to all who donated and served!

North Carolina Food Bank - February 29
Thank you to the youth that helped out at the North Carolina Food Bank in Raleigh this past Saturday. The group of volunteers sorted 21,000 lbs. of food, which breaks down to 17,500 meals. Way to go!

Brown Bag Ministry
Saturday, May 9 from 9:15-11:00 am
Sign Up: www.signupgenius.com/go/20f0f4fa4a62c7-brown3

Ronald McDonald House Soda Can Tabs
Ignite along with RLC Preschool will be collecting soda can tabs to donate to the local Ronald McDonald Houses. Collection containers are in the kitchen, church office, preschool office, and the warehouse.
Mission Trips
YouthWorks Mission Trip - Blue Ridge Mountains, NC
June 16-21, 2019
Such an exciting adventure and thank you for being a part of the team! It was a fantastic week of doing God's good work with our hands! This mission trip was open to youth in grades 6-9.
Middle School Mission Trip 2018
YouthWorks Raleigh
#NYG2019
Questions? Contact Jenny Piontek, High School Youth Ministry Leader, or LeAnn Trautman, Middle School Youth Director.