RLC in Uganda!
Our Uganda Mission Team strives to share the Gospel of Jesus Christ and to minister to underserved communities in Uganda. Since 2010, Resurrection Lutheran Church has been sending short-term mission teams to Uganda to carry out this work. We partner with the Lutheran Church of Uganda (LCU) and with their guidance, work with at-risk communities to develop clean water sources, build schools, and provide opportunities to thrive. Over the years, RLC has provided material assistance for bore hole construction, new school buildings, and new church buildings. We have also supported the new Lutheran Theological Seminary in Uganda with both treasure and time in the classroom.
Through the partnership with Lutheran Church Uganda (LCU), our Uganda mission team has worked with the needs of different communities. RLC supported the creation of new school buildings and boreholes in Lukonda, a district of Uganda. Recently, the LCU has asked Resurrection to focus on a different district, Amudat. Amudat (prairie like environment) is very different from Lukonda (lush farmland). In Amudat, there is evident distress and the needs in this region are significant. School children are gathering in semi-permanent structures which they have outgrown and have no clean water sources nearby. The LCU/RLC partnership is continuing to focus on permanent school buildings and clean water in Amudat.
Click HERE to read the stories from the Diary of a Muzungu.
For more information, please contact Cheryl Fike, Ron Bostick, or the church office (919-851-7248, ).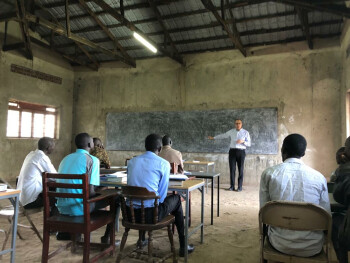 Pray for His message to be heard far and wide!
Prayer Requests
For the safety and well-being of individuals and congregations of the LCU, and for all the people of Uganda
That the Christian message of hope and salvation will continue to spread throughout Uganda
For the safe travel, health, and well-being of this team, and for all short and long-term missionaries
Uganda Mission Team - February 2023
RLC partners with Life For Uganda, a 501c3 non-profit, to minister to underserved communities in Uganda. The heart of the mission is the God-centered relationship between the faithful believers of both RLC and the congregations of the Lutheran Church of Uganda (LCU). Life For Uganda also works to provide clean water sources, build and equip schools, and create opportunities to thrive.
The 2023 Mission Team members were Pastor Jonathan and Juli Blanke, Ron Bostick, Jeff and Cheryl Fike, as well as Bruce Brodhagen and Debra Werner from St. James Lutheran Church in Shawano, Wisconsin. The team spent most of the time in the Amudat region in northeast Uganda, while Pastor Jonathan led a course at the seminary. Highlights were reconnecting with village communities in the Amudat districts, celebrating the dedication of the new church building in Amudat Town with construction supported by RLC, and attending the Magamaga Seminary graduation.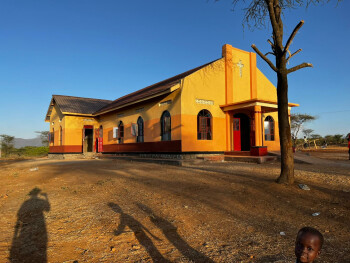 To learn more about Life For Uganda, contact or follow on Instagram @LifeForUganda.