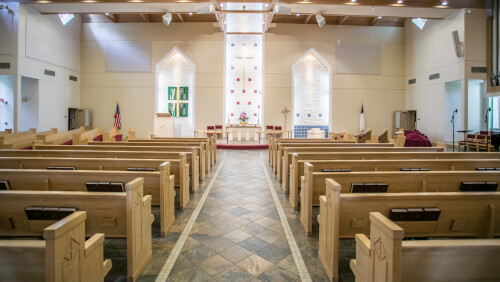 We are meeting for in-person worship!
The following guidelines for in-person worship are currently in place:


Social distancing for all aspects of worship is not required. Limited reserved seating in both the Sanctuary and Family Life Center is available for those who wish to maintain social distancing. Those seated in this section who desire to have communion brought to them may indicate that desire to an usher.


Masks are optional in all worship services and in-person church events indoors starting Saturday, March 5, 2022.


Worship services will continue to be live streamed at 8:00 am and 11:00 am.
Video content from these services will remain on our church's YouTube channel (Resurrection Lutheran Church-Cary NC) after the live service is over and may be viewed there at any time.


We ask that offerings continue to be submitted electronically or placed in offering plates on tables near exits.


We love to have our youngest worshippers in church, but if you choose to use the nursery, it is staffed each week from 9:15-10:45 am.
If you desire Holy Communion and are unable to join us in person, please contact the church office ( , 919-851-7248) to make arrangements for an in-person visit.