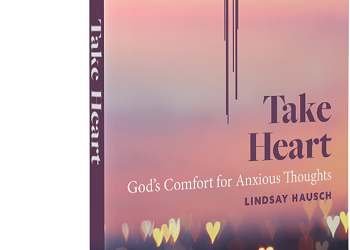 Every Monday, from 09/13/2021 to 12/13/2021, 7:00 PM - 8:00 PM
Monday Night Women's Bible Study
Take Heart: God's Comfort for Anxious Thoughts
Beginning Monday, September 13 from 7:00-8:00 pm
Online via Zoom

Real life can be a real mess.
Feelings of anxiety can attack, overwhelm, and drag us down. We want to turn away from others and rely on ourselves to escape the situation. But God will not let go of you. He will meet you in the midst of your darkness, in the place where you think you are farthest from Him.
Author Lindsay Hausch is no stranger to real-life struggles with anxious thoughts. She knows that, even with the power of God's grace, overcoming anxious thoughts is not as simple as praying enough or having enough faith. Instead, the struggle can be a training ground for spiritual growth. God's love for you is present.
Books are available through Amazon, Concordia Publishing House (cph.org), christianbook.com.
For more information, contact Jamee Thieme through RCB.